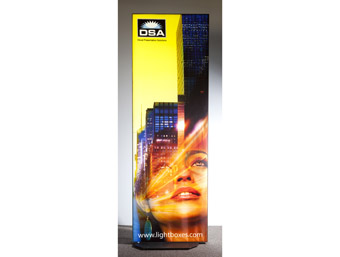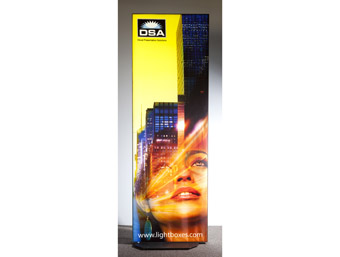 The new, innovative LED edge-lit display from DSA features bright, white illumination designed to display lightweight, eye-catching fabric graphics. Ideal for retail, hospitality, tradeshows, and other commercial applications, the LED source consumes 75 percent less energy and lasts five times as long as traditional fluorescent lamps—up to 100,000 hours—while still providing high quality, uniform illumination.
The LED fabric graphic display light box features a frameless edge—giving it a clean, aesthetic appearance. It is only 3-7/8-inch deep and is available with internal transformer or plug options.
Available in a variety of sizes, finishes, and options, this LED fabric graphic display light box features custom options also available by request.
For more details, call 800/327-3723 or visit www.lightboxes.com.