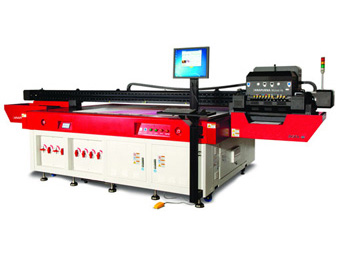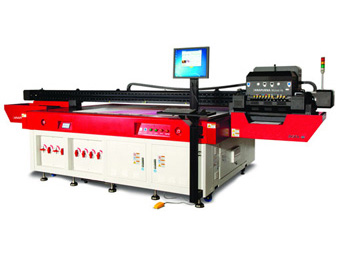 Agfa Graphics North America has announced that the first :Anapurna M2540 FB in North America has been installed at Palumbo Associates, Inc., of Whitehouse Station, New Jersey. The :Anapurna M2540 FB is a true UV flatbed six-color plus white inkjet system designed for printing on rigid substrates.
Palumbo Associates Inc., which has been in business since 1978, is a full-service exhibit firm, specializing in the design and construction of custom and modular exhibits for trade shows, corporate showrooms and permanent installations. More than thirty years ago, when the company first started, the industry used silkscreen technology and photography. There were no computers. The world has changed a great deal since then, and Palumbo Associates has changed with the times, often jumping into new technologies first.
"We basically started with our own print production in 2005. We had farmed it out for years prior to that. Bringing the printing production in-house gave us control over the quality and other issues, such as how quickly a finished project can be delivered to a customer," said Gary Palumbo, owner, Palumbo Associates. "That's why we went with the :Anapurna M2540 FB.
"We do many creative projects that involve various substrates and the :Anapurna was the only true flatbed that could handle our demands. We made a faux iPhone on Plexiglas for our company's holiday card last year using the :Anapurna in Agfa's New Jersey demo center and our customers loved it. That's when we knew for sure the system was the one for us."
With a maximum print speed of 484 ft2/hr, the :Anapurna M2540 FB can print sizes of 8.3-by-5 feet with substrates up to 1.77-inch thick. The system's eleven retractable register pins simplify quick and accurate positioning, particularly when working on double-sided jobs.
The versatile :Anapurna M2540 FB is designed to accommodate small as well as large applications. This addresses the growing demand for niche output, such as the production of promotional goods and gifts, coasters and DVDs. The excellent adhesion of the UV ink and its fast and efficient curing means that glass, ceramics and wood can also be printed, making it suitable for architectural and interior décor as well as exterior signs and displays.
"This industrial printer is appealing to display producers, sign-makers and other market sectors driven by the need for high quality, durable, full-color output using UV-curable ink technology," said Deborah Hutcheson, director of Marketing, Agfa Graphics, North America. "All printing businesses need to save time, and the technology in the :Anapurna M2540 FB addresses a variety of workflow and production elements, providing users greater overall efficiency."
The :Anapurna M2540 FB's versatile vacuum bed and register pins were designed to guide jobs on and off quickly and easily. As a result, the :Anapurna M2540 FB simplifies working with rigid substrates that need to be completely stable during production, yet also permit quick change-overs. The system's powerful vacuum bed has two zones and each has four switchable compartments with a reverse airflow function for swift removal of finished prints and moving heavy substrates.
For more information about the :Anapurna M2540 FB, visit www.agfagraphics.com.