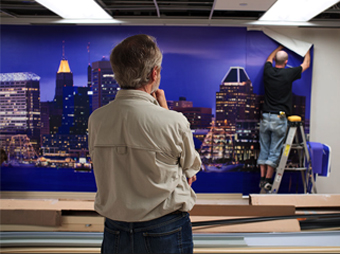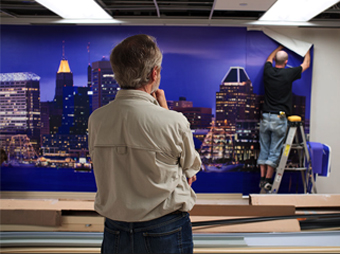 InteliCoat Technologies®, a world leader in coated paper, film and specialty substrates for digital imaging applications, has announced its partnership with Les Picker Fine Art Photography for a project at the new, state-of-the-art Louis and Phyllis Friedman Neurological Rehabilitation Center at Sinai Hospital in Baltimore. Debuting on October 11, the display at the Neurological Rehabilitation Center consists of several wall murals exclusively printed on Magiclée® Mural Pro™ indoor banner using Museo® Enhance™ top coat liquid laminate, as well as sixty photographs printed exclusively on Museo Silver Rag™. The project also includes thirty portfolio boxes featuring a dozen photographs printed on Museo Silver Rag and Museo MAX™.
"Simply put, without high-quality media, there is no project. The images needed to be suitable for a very specialized patient population, so it was critical that the media chosen meet a plethora of demands," said Les Picker. "InteliCoat's broad range of offerings, from Museo Silver Rag to Magiclée Mural Pro to Museo Enhance top coat, delivered a luscious, artful look that was extremely well-received by not only the patients at the hospital, but the staff and the generous donors to the Neurological Rehabilitation Center."
The multi-faceted project includes a mix of decorative art and custom images photographed by professional photographer Les Picker. The custom photographs displayed throughout the wing create lifelike environments used to transition patients back into real-life settings, so each facet of the murals had to feature photographic detail from afar and up-close. The cornerstone of the project is a 9 feet high-by-30 feet wide cityscape wall mural produced on Magiclée Mural Pro wallcovering material, with a similar wall at the opposite end of the room as well as three wrapped columns. Additional elements include the simulation of a real-life grocery market, and a brick walkway that mimicked an actual brick surface – all of which are coated with Museo Enhance top coat liquid laminate for protection and printed using an Epson 9900 printer.
Museo Silver Rag was used for 60 30-by-40-inch prints from Picker's extensive landscape portfolio as well as more than a dozen local landmarks commissioned specifically for the project. Museo Silver Rag and Museo MAX were used as the critical part of a thank you portfolio gift given to donors that contributed to the project. The portfolios contained twelve individual prints, a small write up by the photographer, a thank you letter to the donor from the institution and index prints featuring specific details about each photograph.