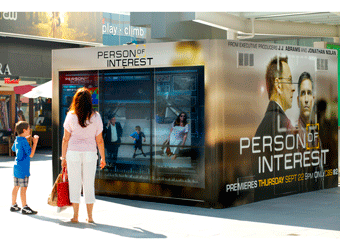 Inwindow Outdoor, the leader and originator of interactive storefront and mall advertising, today launched a digital outdoor campaign for CBS's new crime thriller Person of Interest, a series from J.J. (Lost) Abrams and Jonah (The Dark Knight) Nolan about a presumed dead former-CIA agent who teams up with a mysterious billionaire to prevent violent crimes by using their own brand of vigilante justice. In the series, the characters make use of a state-of-the-art surveillance technology and a software program, designed by the billionaire, which uses pattern recognition to identify people about to be involved in violent crimes.
Located at two premiere Storescape locations in New York City and Los Angeles, Inwindow has created an interactive experience that mirrors the premise of the show and is designed to produce memorable engagements for people on the street who encounter the display.
This is the latest interactive campaign Inwindow has created for a media and entertainment company. The company recently launched a campaign for CW's Ringer and Twentieth Century Fox's Rio.
"My favorite aspect of this campaign is the feeling that users, themselves, become Persons of Interest," said Steve Birnhak, CEO, Inwindow Outdoor. "Plus the online component is really fun because it pulls information from Facebook profiles to create a fictitious report detailing accomplices, whereabouts, and suspected activity."
Pedestrians who approach the interactive screen see themselves in a live video mirror. The screen's cameras detect the user's presence, scan their face and take a photo which the user can opt to have sent to them by texting a number on the screen. The photo arrives with CBS/PERSON OF INTEREST branding and a tab for automatic uploading to Facebook. By sharing the photo with friends, the user activates the analytical elements within the campaign and information is pulled from that user's page to create a "dossier" about the user and their Facebook friends who may be involved in the fictitious government plot.
Inwindow Outdoors's Person of Interest campaign can be seen through the end of the month in New York at 774 Broadway and in Los Angeles at Century City Shopping Center. Person of Interest starring Jame Caviezel and Michael Emerson premieres Thursday, Sept. 22 (9:00-10:00 PM, ET/PT) on the CBS Television Network.
Inwindow Outdoor is an innovative digital out-of-home advertising company specializing in creating highly visible marketing campaigns for advertisers at prime urban storefronts and mall locations throughout the United States. The company invented the concept in 2002 and today creates cutting edge digital displays incorporating unique technologies and interactive components such as such as gesture technology, touch screens, holograms and augmented reality. Their client list includes renowned blue-chip brands such as HBO, HSBC, Intel, Absolut, Target, Pepsi, JetBlue, and BMW. For information about the company, visit www.inwindowoutdoor.com.