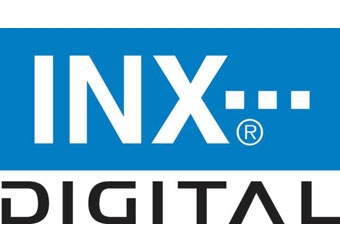 INX International Ink Co. will offer an innovative and distinct array of digital ink products at Fespa Digital Amsterdam, taking place from March 8-11 at the RAI Exhibition Centre in Amsterdam, Holland. INX (Hall 5, Stand M85) will exhibit a number of proven and popular solutions and will also introduce several new alternative ink products for a wide variety of applications.
The TRIANGLE® brand of advanced alternative inks will be well represented, starting with the rollout of the new GSP and GRR UV curable inks optimized for use in Vutek® GS Series printers. The alternative ink line-up will also include ESC eco-solvent, HFB, MGA UV curable, MSS and RXV inks. The EVOLVE™ Advanced Digital Solutions and Prodigy™ brands will provide unique products for a wide range of diverse uses.
"We have been very busy preparing for this year's show and are excited with the many options we will exhibit in our booth. There is an inkjet product for everyone to use in their print operations," remarked Marco Zanella, Managing Director for INX Digital Italy. "We will showcase several products and run them on various printers. The EVOLVE and Prodigy inks are especially eye-catching since they have been designed for challenging industrial applications. The results are something you won't want to miss seeing."
New, advanced TRIANGLE inks debuting at Fespa are the GSP and GRR UV curable high performance inks designed for jetting with outstanding consistency, while running at high speeds on Vutek® GS™ series hybrid flatbed roll-fed printers or dedicated roll-to-roll printers. The Prodigy and EVOLVE product roster additions now include an extended gamut stretchable UV curable ink for traditionally difficult plastics, a new UV curable ink set for synthetic leather applications, and new ink options for textiles, glass, metal, corrugated packaging and film applications.
The HFB inks that will be demonstrated on an HP Scitex FB500 series printer are color comparable and run cleaner than the OEM inks. Not only do they provide strong adhesion to a wide variety of materials including Coroplast®, but its flexibility reduces chipping and peeling.
The MGA UV curable pigmented inks have proven popular with printers due to its brilliant color density and ink coverage and bottom line results. Formulated to run on Durst® Rho™ series printers for high quality results, these premium inks offer a wide color gamut for use with a variety of display graphics media including billboards, Point-of-Purchase displays and backlit display prints. It also provides greater adhesion to plastics and is supported by INX's worldwide outdoor durability and ink train warranties.
There are many advantages to the RXV eco-solvent wide format inks that will run on a Roland® XF-series large format printer, and the MSS inks that will be demonstrated on a Mimaki® JV300™ inkjet printer.
RXV works in tandem with Roland large format printers, including the Roland Soljet™ Pro 4 series – the XR-640™ and XF-640™ – and the VersaEXPRESS™ and VersaCAMM™ VSi series. It combines high performance, color and chemical compatibility with Eco-Sol MAX® 2 OEM inks, and a neutral balanced grey-scale that is equal to OEM ECO ink, with fast dry times and low odor.
MSS inks are very cost effective when used with Mimaki printers, and offer high quality performance and durability to produce exceptional results. Formulated to be color and chemically compatible with Mimaki SS21 inks, they are fast drying and compatible with a wide range of vinyl banner media.