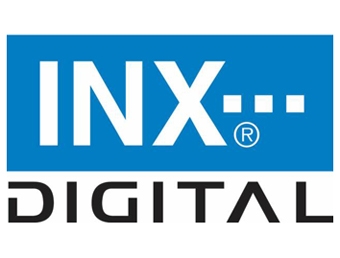 Having developed a knack for finding the right product mix with the SGIA Expo audience, INX International is offering something for everyone this year. When the doors open for the October 22-24 event in Las Vegas, INX (booth #2346) will showcase two unique wide format TRIANGLE® brand inks and preview another, plus demonstrate the CP100 digital cylindrical printer.
"The group of people who attend the SGIA Expo each year prefer products that specifically address their customers and will help their businesses flourish," remarked Susie Mendelssohn, North American Sales Manager and International Marketing Manager, for INX Digital. "The wide format inks we are bringing this year meet the criteria established by attendees at past shows.
"These inks are cost effective, save time, and are manufactured along the same lines of other TRIANGLE brand inks. Anyone familiar with our track record will realize the many advantages they can have over competitors in their marketplace."
The alternative eco-solvent ESC inkjet inks work in conjunction with the Epson Stylus® GS600 commercial outdoor printer and the Epson SureColor® series printers to produce outdoor banners, posters and tradeshow graphics. It also offers added value for use indoors. MED inks are designed to work with the Mimaki® 3042 UV LED flatbed desktop printer. More flexible than Mimaki LH100 series inks, MED is available in six colors plus white and is compatible with Ricoh Gen 4 print heads.
The CP100 is a game-changing must consideration for anyone looking to create specialized packaging. A key part of the EVOLVE™ Advanced Digital Solutions product roster, it provides outstanding short-run production of cylindrical printing. Powered by JetINX™, the CP100 combines high-speed single or multi-pass through-cured 4-color output with an advanced UV LED curing system to produce amazing results.
A new printer technology preview will feature RXV. These eco solvent, high performance TRIANGLE brand inks work in tandem with the Roland® Soljet™ pro 4 series printers and are expected to be offered commercially in the first quarter of 2015.
For more information, visit www.inxinternational.com and www.inxdigital.com.