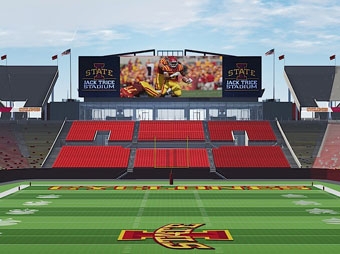 Daktronics of Brookings, South Dakota, has teamed up with Iowa State University of Ames, Iowa, to add another element to the atmosphere and fan experience at Jack Trice Stadium with a brand-new Daktronics LED video display and LED ribbon displays. Installation of the new displays will be completed this summer.
"Iowa State University has welcomed its partnership with Daktronics throughout the years," said Chris Jorgensen, senior associate athletics director for facilities, planning and management at Iowa State University. "The Daktronics video boards in our facilities have been instrumental in enhancing the game-day atmosphere and experience at all of our sporting events. The two end zone video boards will make Jack Trice Stadium a one-of-kind venue and an exciting place to be in the fall."
The Cyclones will be receiving a new end zone display to highlight the renovations being done at Jack Trice Stadium. This main display will measure approximately 36 feet high-by-79 feet wide and will feature a 15HD pixel layout. It provides excellent image clarity and contrast with wide angle visibility to appeal to every seat in the stadium while also incorporating industry-leading environmental protection.
The display will feature variable content zoning which allows it to show one large image across the entire display to highlight live video and instant replays, but can also be separated into multiple zones to show any combination of scoring information, up-to-the-minute statistics, graphics and animations, and sponsor advertisements.
In addition to the main display, the Cyclones will also be installing two ribbon displays that will each measure approximately 4 feet high by 623 feet wide and also incorporates a 15HD pixel layout. These displays can show versatile content such as graphics and animations but also provides the opportunity to showcase sponsors throughout events and keep fans informed with up-to-the-minute statistics and other game information.
"Daktronics appreciates the opportunity to once again partner with Iowa State University," said Matt Warnke, Daktronics sales representative. "Our partnership goes back well more than a decade and we are honored that Iowa State has once again selected Daktronics for their video and scoring display needs. The addition of the south end zone video display and the ribbon displays will add to an exciting game-day atmosphere and we look forward to the first game this fall."
Daktronics LED video and messaging display technology offers a long lifetime with consistent, industry-leading performance and low power consumption, providing value and excitement for years to come.