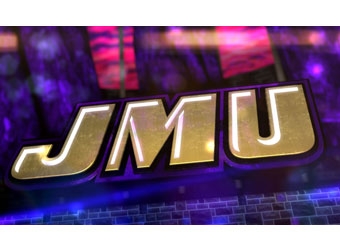 Improving the graphics shown on their video display during Dukes football games, James Madison University (JMU) has partnered with Daktronics Creative Services of Brookings, South Dakota, for the past three years for the production of multiple digital pieces for their game-day presentation. This year, JMU is adding content focused on fan engagement and overall entertainment throughout each event.
"Daktronics has a dynamic and innovative array of in-game entertainment tools that contribute to our in-game experience at James Madison," Director of Athletics Jeff Bourne said. "They have worked diligently to be industry leaders in creativity and customer service. We are grateful for the partnership that we've had for the last five seasons and are excited about continuing the relationship."
In the past, JMU opted for full 3D animated intro videos that were customized to each opponent for that football season. After a couple of years of those features, they worked through a complete overhaul of their game-day elements from logo treatments and crowd prompts to graphic toolkit elements and headshots. The university worked closely with the creative team to produce a custom bluestone look based on limestone that is native to the area and highlighted throughout the JMU campus architecture.
In 2015, fan engagement pieces have been added to get the fans interacting with the displays by asking questions such as "What year was it?" and "Where in the world?" The display would then show or slowly reveal a picture associated with the answer to the question. Through these types of features, fans are able to learn new facts about the team and players to create a deeper connection and strengthen their loyalty.
"We're fortunate to have an event producer onsite at JMU who helps streamline their requests and translates those requests accurately to our digital artists so they can provide the desired content in a quick and easy manner with very few revisions," said Trisha Schuver, Manager of Daktronics Creative Services. "This also allows us to serve as an additional resource to our customers by producing on fun new ideas that help them achieve their objectives through our intimate understanding of their specific display system."
Daktronics LED video and messaging display technology offers a long lifetime with consistent, industry-leading performance and low power consumption, providing value and excitement for years to come.