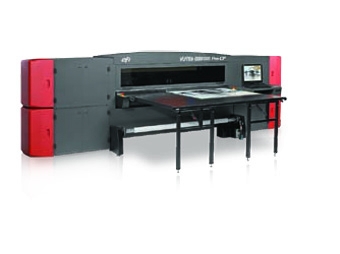 Are you a graphics/print provider looking to raise a little dimension into your profile? Then consider thermoforming print systems, which can be utilized to create P-O-P signage, displays, shelving, backlit electrical signage, and specialty promo items and props. Those shops equipped with thermoforming capabilities can go after clients like consumer brands, OEMs, retail chains, mom-&-pop stores, and franchisees.
Thermoforming involves warming up thermoplastic materials into new shapes at a splash transition temperature to make them flexible and then cooling them down to keep said shape (whether through vacuum forming, drape forming, blow forming, or tooled forming).
All major thermoplastics are great candidates for digital pre-decoration, as well as acrylic, polystyrene, PETG, Mustang, polycarbonate, ABS, TPO, etc. Composite materials that are blends of thermoplastics with rubber, chlorinated plastics or adhesives can problematic though. "Our policy is to do sample printing on the customers' materials (either with their image or a stock image) and let them test it in their process," says EFI Director of Business Development Spencer Craig.
There are two methods of decoration: post-forming and pre-forming. Post-forming can be achieved via airbrush and hand-paints (for backlit electrical signage), where colors are airbrushed and then masked off, or (for automotives) as vinyl decal appliqués that must be precisely placed by hand on the surface.
Pre-forming is very state-of-the-art today. UV inks are generally adhered to the plastic media, so when the inks are heated to the substrate with a UV lamp, they'll stretch as much as the media they're printed onto.
The thermoforming print process can be as easy as any other commercial graphics printing process—or more complex. It all depends on the end application. Craig offers the following tips to help you:
+ "Top-surface applications (P-O-P displays, for example) require only one layer of ink and are simple to print," he says.
+ "Bottom surface applications (electrical signage) require at least two layers (one process color for the image, the other white as a light-diffusing layer) and can require as many as four layers if the backlights are extremely intense (high-intensity LEDs in casino gaming facades, for example)."
+ "Color matching can be very easy (when printing on white media) or very difficult (when backlit with a light source of unknown color spectrum). So if I wanted to put an image of your face on a formed salad bowl, I could take your photo with my phone, RIP it, print it out, and form it all in about thirty minutes.
"On the other hand, custom color matching on a process-color image in a demanding application (say using inexpensive mold technology to make a formed part for an application that requires intense backlighting using strong adhesives for outdoor use) could take considerably longer."