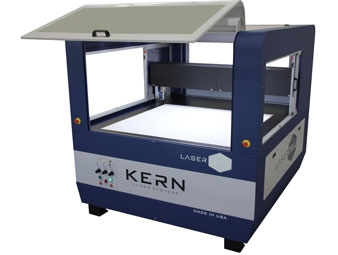 Kern Laser Systems is excited to announce the release of the LaserCELL as the newest addition to their product lineup.
Following the great success of the flagship HSE laser, Kern has designed a Class 1 machine design, ensuring work environments that require enclosed systems will find their needs met with interlocked doors and access points. LaserCELL systems are CDRH and CE compliant to meet the most rigorous safety requirements set forth by the US and European safety regulators.
The LaserCELL's motion package was redesigned to provide higher product throughput for both cutting and engraving applications. The Y axis features powerful dual servo motors powering a rack and pinion drive setup. The engraving axis was also improved and now features a thicker steel reinforced belt and dual rails ensuring long bearing lifetime and superior raster imaging capabilities.
Derek Kern, President of Sales is especially excited to introduce this system to our prospects and customers. "The LaserCELL was designed with the idea that it could be placed in a variety of workplace environments including sign shops, R&D facilities and Universities". Kern also noted, "Our R&D engineering team put forth great effort to improve every aspect of the laser system from the redesigned vacuum hold down table to a programmable air assist system. The LaserCELL is a state-of-the-art machine that our customers can add to their shops with confidence showing their employees and customers that they are moving forward and investing resources in the best equipment on the market."