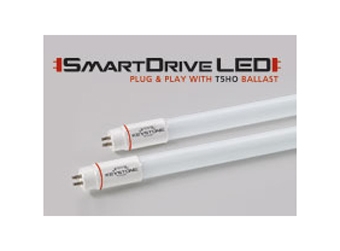 Keystone Technologies continues to expand their line of LED tubes with the introduction of T5HO LED tubes. The new T5HO LED tubes provide exceptional lumen levels, but consume half the power of fluorescent tubes.
"Keystone is leading the way with LED lamps for high bay installations," said Ira Greenberg, CEO of Keystone. "The energy savings with T5HO LED tubes is truly impressive. A fluorescent T5HO tube requires 54 watts of power, but our LED tube uses only 27 watts. Energy bills will reflect this savings immediately."
The T5HO LED tubes use Smart Drive technology, which means they Plug & Play with the existing ballast. They are constructed of shatterproof glass so they are approved for use in food service operations, and offer an additional level of safety in gymnasiums and other sports facilities.
According to Josh Brown, VP of Distributor Sales, "The T5HO tube is a significant addition to our LED tube offer. We are dedicated to expanding our line of LED products so we can provide one-stop-shopping for our customers. It's all about Light Made Easy."
For more information, visit www.KeystoneBallast.com.