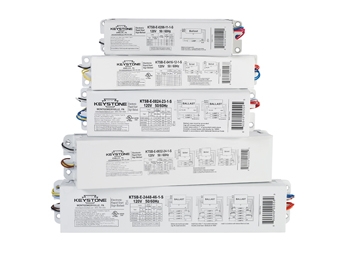 Keystone Technologies announces the expansion of its extensive offering of sign ballasts with innovative SmartWire Electronic Sign Ballasts. The new SmartWire Electronic Sign Ballasts wire exactly the same as traditional magnetic sign ballasts. However, they are considerably lighter, operate both T12HO & T8HO, and deliver significant energy savings.
"SmartWire Electronic Sign ballasts can transform the replacement sign industry," said Josh Brown, VP Distributor Sales, Keystone Technologies. "Contractors often complain that it can take up to three hours to install a Standard Electronic Sign Ballast in place of a Magnetic Sign Ballast because they need to rewire the entire sign. Our product totally eliminates that problem.
"We believe this is a game-changing innovation and we are very excited to bring it to market."
Employing state-of-the-art design, Keystone's SmartWire Electronic Sign Ballasts deliver all the advantages of electronic ballast technology, while still maintaining the familiar wiring pattern of standard magnetic sign ballasts. SmartWire Electronic Sign Ballasts wire in series, identical to magnetic sign ballasts, but are up to 50 percent lighter and deliver up to 15 percent energy savings. This provides seamless compatibility and easy installation for end-users. Additionally, the entire product offering contains only 5 SKUs that support both T12HO & T8HO lamps, allowing customers to drastically reduce their stocking inventory.
For more information about SmartWire Electronic Sign Ballasts and to register for a free sample, visit www.keystoneballast.com/smartwire.