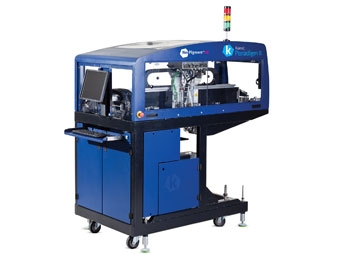 The new year heralds the arrival into North America of Kornit Digital's Paradigm II digital add-on station that has been developed to complement screen-printing carousels and oval machines.
With superior short-run and multi-colour capabilities, direct-to-garment printing can now be united into an analogue production line to work in tandem. This exciting new opportunity results in unique garment applications, merging inexpensive white layers and effects from the screen process with benefits such as photorealistic skin tones and smooth gradations, a high yield and process efficiencies. In addition to mass customisation environments, this versatile direct-to-garment printer can be used just for digital applications where samples and low volumes are required – opportunities denied to screen-printers until now.
The Imprinted Sportswear Show takes place at the Long Beach Convention Center, California from 16 to 18 January 2015. As a specialist event for apparel printing, it is the ideal platform for the formal announcement of the Paradigm II into the North American market.
Constant interaction with customers world-wide led Kornit Digital to develop the Paradigm II, which features ease of use, fast throughput and a bulk ink delivery system, plus the option for an integrated humidity system. The NeoPigment process's powerful and effective water-based properties make it ideal for discharge printing to enable dark fabrics to be produced. This extends the application possibilities for screen-printing companies that want to combine the speed and wide colour gamut of digital printing with special analogue effects.
Like all of Kornit Digital's direct-to-garment digital printers, the Paradigm II employs the company's unique NeoPigment one-step process. This meets the growing requirement for addressing health and safety, eliminating pollution, with Oeko-Tex 100, GOTS and AATCC certification in place to comply with the most stringent industry standards.
Successful beta testing has confirmed that the Kornit Digital Paradigm II matches the requirements of screen-printing companies looking to offer unique, high-margin products in small to mid-sized print runs. "The Paradigm II combines the best of both worlds. It allows us to take full advantage of the cost benefits of screen-printing while offering the photorealistic quality of digital printing," explains Willy Maisel, CEO of leading garment print specialist, World of Textiles based in Konradsreuth, Germany. "Of particular value to us are the time and cost savings we achieve when working with complex images that require multiple colour separations. After successful testing, we are now installing a second Paradigm II printer."
North American distributor for Kornit Digital, Hirsch International, also welcomes the benefits of the Paradigm II. "Screen-printers are looking to digital for low volumes, very high quality of photographic images and customisation," states Kris Janowski, Hirsch's President. "Kornit's innovative NeoPigment process now means that all the benefits of digital printing can be integrated into an existing analogue line for ultimate versatility. We have been asked constantly for this technology, and now it has become reality. The Kornit Paradigm II is truly the game-changer, bringing the screen-printing world into the digital age."
"The Imprint Sportswear Show provides the ideal opportunity for Kornit Digital to launch the Paradigm II to the North American market," states Guy Zimmerman, Executive Vice President of Marketing & Business Development. "We are starting 2015 by inspiring screen-printers to integrate digital production into their existing lines. This will bring them exciting opportunities that are based on reliable and innovative technology and enables them to take advantage of very high quality results, personalisation, low volumes and the ultimate in versatility. The result is a unique and highly practical opportunity for users wanting to take advantage of the growing demand for short-runs."
The Kornit Digital Paradigm II throughputs up to 200 garments per hour, and is ideal for use on cottons and blends, lycra, silk, viscose, leather, denim and a host of other typical fabrics employed by screen-printing companies. It has a maximum printing area of 39.5 x 49.5cm (15.5 x 19.5 inches) and an output resolution of up to 600dpi, making it ideal for fine photographic quality and solid colours. Its eight robust Spectra Dimatix Polaris print-heads are designed to handle 24/7 production, and integration with manual and automatic screen carousels and ovals requires no complex set-up procedures.