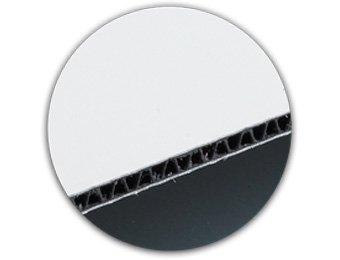 Econolite® is a strong, lightweight aluminum composite panel with a high-density corrugated polyallomer (CPA) core that will not swell, corrode, rot, wick water, or delaminate even under prolonged water exposure. Featuring a single-sided, finished surface of high-gloss factory baked polyester painted aluminum, Econolite is also backed with an unpainted aluminum sheet for added balance. The painted surface is warranted not to crack, chip, flake, or peel.
Econolite has all the benefits of Laminators' popular Alumalite™ panel, but with only one finished aluminum side, whereas Alumalite has two finished sides. It's ideal for paints, digital inks (UV or solvent cured), screen print inks, and pressure-sensitive vinyl. The product also easily routs and cuts using standard carpentry tools.
Numerous field tests have been performed, including extensive freeze/thaw cycling tests, resulting in no significant structural panel failure. The product is wind-resistant when properly fastened between two posts; Econolite can withstand winds over 120 mph. It's engineered to be weather-resistant with a "Class A" flame spread rating, which tests how far and how fast flames spread across the surface. The surface is also formulated to resist outdoor dirt and is practically "self-cleaning."
Econolite is an economical option for many interior and exterior signage including: Architectural Signage, Corporate ID, Digital Print, Fascias, Multiple Panels, Electrical, Wall & Fence Mounted Signs, Billboards, Post & Panel Signs, Back-lit Signs, Cut-outs, Channel Letters, Scoreboards, P-O-P Displays, Kiosks, and Highway Signage.
Laminators Incorporated, a leading manufacturer for over fifty years, offers of a complete line of composite panels for the commercial construction and sign making industries in the United States and Canada. Laminators' lightweight systems are exceptionally strong and durable, and provide various application solutions making the panels quick and easy for users to fabricate and install.
For additional information, visit www.LaminatorsInc.com.