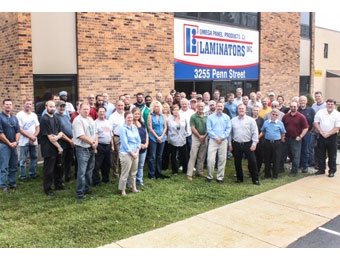 Laminators Incorporated, manufacturer of composite panels for the commercial construction and professional sign-making industries, recently celebrated its 50th Anniversary with a fun-filled evening for its employees and their families. Commemorating 50 years, the anniversary party included a slide show of Laminators' events, employees and products through the years, retro-style candy from the 1960's, a fortune teller, prizes, a magician, dancing and more.
David J. Thompson, president, opened up the evening with a speech. "Our history is rich and ingenuity in evident. Laminators is lucky to have such a dedicated group of people…Some of our team has devoted most of their adult lives at Laminators – with over 25% of them being with us for over 20 years." He continued, "Laminators has been blessed with 50 years of exceptional people committed to working hard every day."
Laminators Incorporated, originally founded by Joseph Thompson in 1963, started as a laminating company making chalkboards and bulletin boards but has evolved over its 50-year history and continues to offer high-quality aluminum composite panels and value-added solutions. The company is currently owned and operated by the third generation Thompson family since 2008.