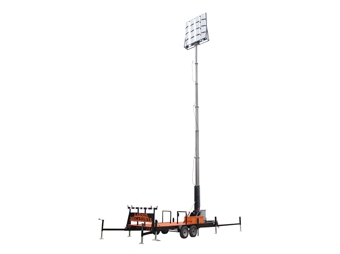 Larson Electronics' LM-50-5S-TLR-16X400LTL-LED Mega Tower™ pneumatic light mast provides a safe and effective way for operators to quickly deploy sixteen 500-watt LED light heads to elevations up to fifty feet. This tower folds over for easy transportation, features a hydraulic ram upright assist, an air-powered pneumatic mast, and high-output LED light fixtures.
The entire assembly is mounted on a 21-by-8-foot tandem axle trailer that allows operators to transport the boom from one location to another.
The mast is elevated from its horizontal resting position by using an included hydraulic ram and is extended to its full height of fifty-eight feet with a trailer-mounted air compressor. The elevation is controlled by a push button switch to operate the hydraulic ram, allowing operators to raise the mast to the upright position. The vertical deployment is operated by an up/down level, allowing operators to extend it to its full fifty-foot height or retract it to the twenty-two-foot collapsed height.
The sixteen light heads on this tower are Larson's wet area suitable GAU-LTL-600W-LED high-output LED fixtures that produce 60,000 lumens of light at 500 watts each. Each light head contains 48 CREE® high output LEDs producing 1,250 lumens each. Each light is securely fastened to the light boom and each lamp includes a support bracket to help maintain lamp stability within its housing. The lamps are hard-wired into a NEMA 3R panel located on the end of the telescoping boom. Power is provided to the control box via a twenty-foot 10/4 SOOW whip with flying leads for connection to terminal mount gensets.
The entire unit is mounted onto a four wheel, tandem axle trailer constructed of eight-inch box steel equipped with axles. Each axle is rated at 7,000 pounds and equipped with tubeless tires and wheels.
A single 7,000-pound rated tongue jack provides a stable connect-disconnect platform as well as additional stability during tower deployment.
The trailer is finished in Dupont™ paint for protection against rust and corrosion and provides an attractive finish.
"Our new fifty-foot pneumatic light mast is by far the brightest and biggest light mast we have ever manufactured," said Rob Bresnahan with Larsonelectronics.com. "It is designed to provide operators with a heavy duty, stable, reliable unit that produces extreme light output no other tower can compare to."
For more information, call 800/369-6671 or visit www.LarsonElectronics.com.