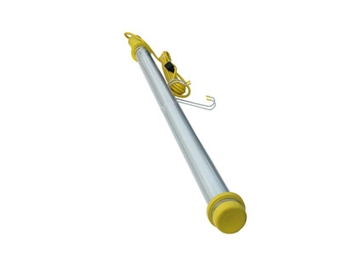 From the big screen to your home television, industrial lighting equipment leader Larson Electronics has experienced significant expansion into the film entertainment industry. Producers of ABC's "Grey's Anatomy" have chosen the FTL-5 to make its grand appearance on television in the season finale of the show on May 15th.
Further adding to Larson Electronics popular onscreen debuts, ABC producers of Grey's Anatomy have chosen the FTL-5 fluorescent drop light to be used in the season finale. This fluorescent multi-task drop light is ideal in practically any environment including maintenance, construction, aerospace, emergency shelters, and shipyards. It is a lightweight, durable, and portable fluorescent light fixture. This task light is designed to perform with cooler operating temperatures compared to conventional fluorescent lights to reduce the chances of fire and burns. A built in reflector provides a wide, glare-free shadowless light field. A rubber handle and end cap are easily removed in order to replace the bulb and the starter.
The FTL-5 comes standard with removable drop hooks that can be placed at each end of the task light to provide convenient placement overhead or anywhere light illumination is needed. A rubber handle and end cap provides operators with an easy to use unit. Its non-metallic construction eliminates the risk of energized external parts and the Lexan tube housing that encapsulates the fluorescent glass tube makes the light ideal for food safe requirements. Each light is equipped with a plug on one end and a socket on the other. Operators are able to use a single outlet and interconnect several units to cover a larger area without having to use a multitude of cords.
"Larson Electronics strives to produce quality products that perform just as well as the ones displayed on the big screen and on your home TV," said Rob Bresnahan with Larson Electronics. "We take great pride in bringing the latest advanced technology to the filming industry as well as the average customer."