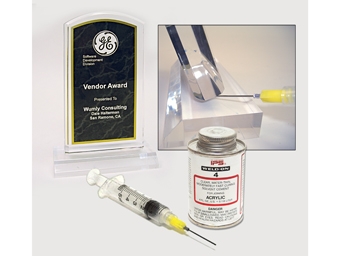 Gluing an acrylic award is easy and will look professional using the correct glue and applicator. LaserBits offers a top-quality glue, which is formulated for the type of acrylic common in awards. A special glue applicator creates a bubble free bond of the acrylic pieces uses a non-sharp tip to apply the glue.
The acrylic glue forms an initial bond quickly with a full strength bond in twenty-for hours.
Complete information about "how-to glue an acrylic award" is available for viewing in the Tech Tip section of www.laserbits.com.