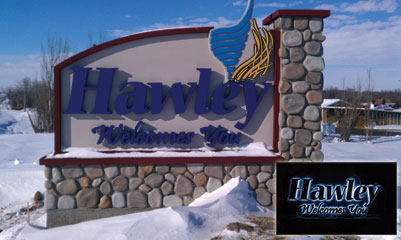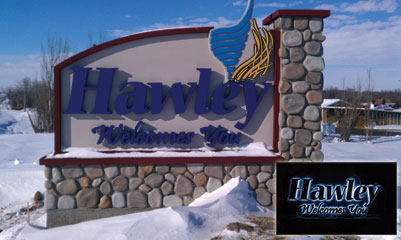 Jeff Wooten
The town of Hawley is a small community located in western Minnesota. This idyllic, family-friendly locale boasts plenty of amenities attractive to people seeking a small town life: Good schools, friendly churches, active park and recreation programs—and a life-sized replica of a Viking ship. As they say, the usuals.
A couple of years ago, the town started up an advertising campaign called "Hawley-would" (say it aloud), which promoted its allure. But officials also recently wanted to make another splash by installing a couple of "Welcome to Hawley" monument signs along the main highway into town—the thought being these signs would act as another attractive statement toward the community.
Enter JH Signs & Designs, Inc. of nearby Perham, Minnesota. JH Signs is a full-service shop founded, owned, and operated by Justin Helmke; the four-person business works on a wide variety of projects—from small vinyl decals to large illuminated signs to message centers. "There's a lot of manufacturing and industry in the Perham area, so you have to be diversified to stay busy all year long," says Helmke.
One of JH Signs' customers in Hawley has had them work on signage for several of his Subway® restaurants, and this particular owner asked Helmke about his interest in bidding on this welcome sign project. However the deadline was already tight. "I had to scramble to get some information from him about what Hawley was looking for and then see what I could come up with design-wise," says Helmke. "I had less than a week to come up with a sketch and submit my bid."
The Winning Design
Hawley officials requested that the town's official logo be worked into the design. Helmke was also inspired by the area geography. "A river runs through the town," says Helmke, "so I took this into consideration."
Helmke came up with a design that says: "Hawley welcomes you!" The monument signs would be cellular plastic-structured with a simulated river rock base and a pillar. The face would host LED channel letters, as well as a dimensional version of the town's logo.
"When we design monument signs, we like to get away from the usual shapes. In this instance, we had a chance to do something creative and fun, so we took advantage of the situation." states Helmke. "We like to have things extend off. This grabs attention. "So we made the logo larger and noticeable. With the shape of the sign and the pillar, we wanted it to look bold and have some substance."

Building the Monuments
Shortly after Helmke met with the town council to present his ideas, they offered his shop the job of building and installing the welcome signs. They wanted two of them.
Helmke accepted and contacted Signs By Benchmark of Watertown, South Dakota, which creates exterior/interior signage, as well as sign accents. This was the first time Helmke had worked with the company, but he learned they had experience creating monuments for cities, churches, businesses, etc.
"When a sign company realizes that the customer wants a unique feature that isn't easily created from traditional materials, they'll give us a call," says Matt Frey, division manager at Signs By Benchmark. "What our team really excels at though is creating unique custom signage or accents that just can't be found elsewhere. We never say, 'Can that be made?' Instead we ask, 'How can we make that?'"
Signs By Benchmark turned Helmke's approved design sketches into an AutoCAD drawing. "This allowed us to achieve accurate layouts and design from the inside out and create tool paths for our CNC cutter to cut the sign," says Frey. (Note: All the components were cut with a CNC cutter, except for the faux stone—which was sculpted by hand.)
The composite-core signs were made from expanded polystyrene (EPS) cellular plastic, which provides "almost unlimited design flexibility," according to Frey. The detachable, three-dimensional logo elements and the faux stone elements were also crafted from EPS.
Frey adds, "We use a flexible, composite medium that allows design freedom while providing strong, yet lightweight signage."
Recreating the faux river rock proved to be a special challenge, because of characteristics unique to every piece. "It's a labor-intensive process that includes making each stone its own separate shape, texture, and color," explains Frey. "Each faux stone then had to be fitted individually to the sign base."
Once all the elements were assembled, Signs By Benchmark hard-coated the signs (as it does with all its other orders) with its specially formulated polyurethane to create a seamless surface that's strong, durable, and won't rust or rot. "The hard coat allows our signs to withstand extreme weather conditions—typically from -30°F to well over 100°F," says Frey.
Now How to Light These Beauties?
Since the signs were being set up a distance away from a power utility, the question of channel letter illumination arose.
Hawley officials suggested solar power, but Helmke wasn't familiar with this technology. "I liked the idea, but I told them I'd have to do some research," he says. "The town had some people-in-the-know contact me, so we worked together."
According to Frey, solar power is a good alternative source of energy in remote locations where conventional power isn't readily available. "For those who choose off-the-grid options, solar power can be a savvy, cost-saving choice for sign illumination," he adds.
Since the signs were going to be set up in fourteen-foot-wide right-of-ways, the Minnesota Department of Transportation (MNDOT) was required to authorize the actual solar panels. "The MNDOT thought the solar panels were similar to those seen on houses," says Helmke. "This was a new concept for [them]."
Signs By Benchmark constructed the signs with a hollow core and removable rear access panel to gain access to the interior for eventual wiring management of the channel letters. During construction (and after the drawings had been approved), Helmke requested Benchmark see about the specifics for a raceway and pass-thrus for the wires.
Internal raceways had to be manufactured into each sign to accept wiring for the reverse-lit solar-powered channel letters. Helmke hired wholesale sign manufacturer Pascual Signs Company of Osseo, Minnesota to produce the channel letters, at which time a file was needed for Benchmark to place the pass-thrus in exactly the right place. "All went well working with both companies passing files back," says Helmke.
The "Hawley" letters are 26 inches high-by-24 inches wide, while the "Welcomes You" text is 13 inches high. The letters were all built individually and painted a blue color. "The signs contain an aluminum panel behind the polyurethane face to which the channel letters were stud-mounted," explains Helmke.
For illumination, Helmke mounted white Luxombright LED minis to the clear acrylic facing the inside of the letters. "The insides of the letters are painted white," states Helmke. "That way, you get a nice, uniform white light reflected back towards the background, which produces a nice halo effect."
On each solar unit, there's a bank of batteries that stores the energy. When the sun set and rose the first day, it set itself to pick up the light; the letters now turn on when the sun sets and shut off when it rises without having to use a timer. "The batteries are 12-volt, so they're wired directly to the LEDs without a power supply," says Helmke.
Ensuring there was enough room to work inside the sign was key. After obtaining a template from Pascual Signs, Signs By Benchmark installed PVC sleeves into the sign body in line with the pass-thru locations in the channel letters.
"Knowing the letters were going to be attached on-site, installing the PVC sleeves at [our facility] allowed us to completely seal the penetrations into the sign body. This was going to save time for the installer by eliminating the need to drill them on-site," comments Frey.
While We're Discussing Installation
Each single-face sign measures thirty-eight inches deep, nearly fourteen feet wide, and a little over ten-and-a-half feet tall. Because of the size, Signs By Benchmark had to consider what would work best for shipping to the site via their drop deck shipping vans.
"We built the three-dimensional, embossed city logo accents out of cellular plastic as separate pieces, so they could be bolted to the sign on-site," says Frey.
The sign installation took place on a day of eight-inch snowdrifts. "The footings were installed the week before—when the ground wasn't yet frozen. However on the day of the install, the ground was indeed frozen," remembers Helmke. "We didn't want to have to move the signs any more than needed, but we were amazed at how light the signs were compared to their size."
Helmke and his install crew had used a two-man auger and shovels to create five-foot-deep footings that formed two holes for the posts to go into and have a nice, flat platform to set the sign on.

"There are two poles that run up into the signs from the footings that are different lengths to fit the signs," says Helmke. "We poured concrete into a skid steer bucket and transferred it to the location of the footings, because we couldn't get a truck close enough to pour directly in the holes!"
Due to their size, the signs required rather large poles. "The poles going through the sign body had to miss the electrical components within the body of each sign," states Frey. "There were some issues with the footings, and both signs weren't made exactly the same (because of underground utilities we had to avoid while installing the footings).
"Because each of the two signs required different pole centers due to electrical issues, both had to be universal, allowing for installation at either site."
JH Signs installed everything manually—except for the lifting. For that, they brought in a portable crane on a trailer. "We had to lift the signs up about ten feet over the poles and slide them into place," says Helmke.
A Radiant Reaction
The project spanned about a two-month period, with much of this time spent during the city council's revision-and-approval process. But all ended well with new signs that are powered at night by the sun's daytime glow.
"The town of Hawley said it's the first time they can remember having received a call from the public to let them know they liked what they were doing! That's satisfying," says Helmke.