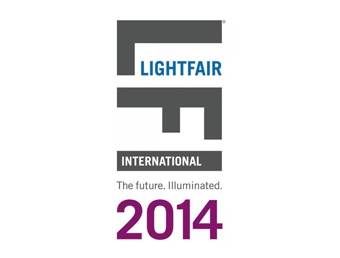 LIGHTFAIR® International (LFI®) celebrates twenty-five years of innovation with an expanded trade show floor offering attendees the broadest product selection in LFI history starting June 3, 2014 in Las Vegas (Tradeshow: June 3-5; Conference: June 1-5).
The LFI 2014 product mix includes more than 40 categories with integrated design, alternative energy and solar power, OLEDs, healthcare, hospitality, digital signage, and software showing significant growth from 2013.
The expanded categories will give attendees broader and deeper access to products and technologies from more than 500 exhibitors including new exhibitors.
The tradeshow is accompanied by the largest Conference in LFI's twenty-five-year history. More than 170 speakers from diverse disciplines have been selected to cover a broad spectrum of educational topics. The 2014 program will contain 81 course offerings.
A concentrated emphasis on integrated design in the exhibit hall reflects the new focus for the Conference on integrated design and four theme areas: Inspiration, Technology and Tools, Problem-Solving and Integrated Design.
Many LFI exhibitors will showcase healthcare and hospitality lighting products and solutions which will be complemented by the debut of two new Forums in the Conference: LFI Healthcare Lighting Forum and LFI Hospitality Lighting Forum.
A new networking lounge—LFI 25—will be added in celebration of LFI's twenty-fifth anniversary. On Tuesday, June 3 at 10 a.m. after the LFI Innovation Awards®, there will be a ribbon cutting ceremony with complimentary coffee and cake. There will be six other lounges located throughout the trade show floor with a robust networking events schedule in the Spotlight Lounge.
For LIGHTFAIR International 2014, the Pre-Conference program will take place from Sunday, June 1-Monday, June 2, 2014 and the LFI Tradshow and Conference will run from Tuesday, June 3-Thursday, June 5, 2014.
For more information about LIGHTFAIR International, visit www.lightfair.com.