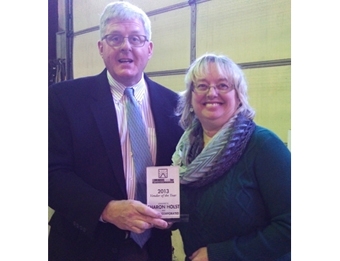 Luminous Neon has recognized Gemini Incorporated as one of its Vendors of the Year for its outstanding customer service during 2013. Gemini Sales Representative Sharon Holst accepted the award during a luncheon held December 17 at Luminous Neon's Olathe, Kansas facility.
According to Marla Eriksen, Luminous Neon's vice president of Regional Operations, the company has been recognizing Vendors of the Year since 2008. She said, the company's vendors are important partners and as acknowledged in the company's mission statement, Luminous Neon is "dedicated to serving vendors with mutually rewarding, professional relationships."
Eriksen said nominations are submitted by Luminous Neon staffers who purchase goods and services for the company. Out of those nominations, two vendors are chosen. "The vendors are typically nominated not necessarily for the products that Luminous Neon buys from them, but for the exceptional customer service that they provide to the company," she said.
The 2013 winners were Sharon Holst from Gemini and Tom Peterson from Minnesota-based graphics manufacturing company Miratec.
Luminous Neon Art & Sign Systems is a full-service sign company with more than eighty employees and six locations across Kansas. Established in 1928, the company has over 85 years of experience serving the needs of its customers. The company has been owned and operated by Mert Sellers since 1970.
Since 1963, Gemini Incorporated has been a world leader in the development and production of dimensional letters, logos and plaques for the sign, identification and recognition industries. To serve its customers better, Gemini has manufacturing plant facilities in seven locations across North America.
For more information, call 800/538-8377 or visit www.signletters.com.