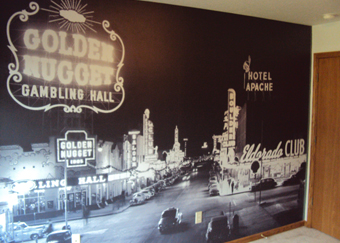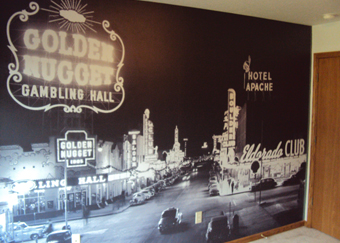 MACtac® Graphic Products
has expanded its wall graphics media offering with the addition of DecoArt™, an interior pressure-sensitive product line. DecoArt™ DecoSatin™ DA012, a fabric-based product first to launch in the DecoArt line, is specifically intended for wide format printing of pressure-sensitive wall graphics, wall murals, and custom wall coverings.
DecoArt DecoSatin DA012 can be used in a variety of interior locations, ranging from hotels, conference centers, and reception areas to stores and waiting areas. In addition, it has a durability of five to seven years indoors and up to a year outdoors. DecoSatin is backed by MACtac's Open Image Warranty, which guarantees the quality and longevity warranted in registered applications.
"Because DecoArt DecoSatin was designed with wide format printers in mind, it prints vibrant colors beautifully, installs easily, and just as important, removes without the need for steam or wallpaper 'claws,'" said Mary Ann Kucera, marketing manager, MACtac Graphic Products. "The product line enables customers to create custom designs for both short-run print jobs and longer run jobs like multiple hotel rooms."
DecoArt DecoSatin DA012 is a white woven polyester textile that is coated with a clear, repositionable acrylic pressure-sensitive adhesive. DecoSatin meets ANSI / NFPA – Class A and IBC – Class A specifications for flame spread and smoke density. The product is intended to be used with wide format, eco-solvent, solvent-based, latex-based, and ultraviolet (UV) – cured inkjet printers. Stability and smooth-feeding characteristics through the inkjet printers are provided by a protected 86# polycoated release liner.
The full line of MACtac Graphic Products: IMAGin®, PERMACOLOR®, MACmark®, and REBEL™ provides a pressure-sensitive solution for every signage need. Whatever technology – wide-format digital printing, mounting and laminating, CAS, or screen printing – MACtac has you covered.