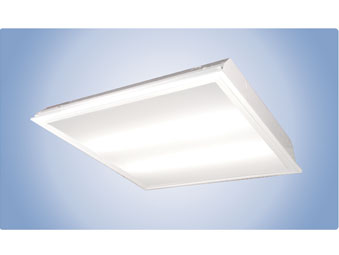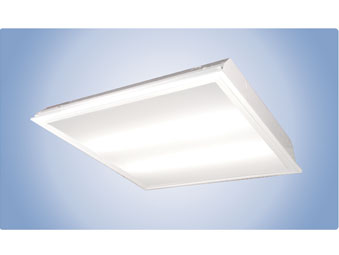 MaxLite® introduces the new ECO-T™ LED Recessed Troffer as a cost-effective, energy-efficient alternative to traditional fluorescent fixtures. MaxLite, a leading global manufacturer and marketer of MaxLED®, an award-winning line of innovative LED luminaires and lamps using state-of-the-art LED technology, is offering this energy saving luminaire to the commercial and institutional market, including schools and municipalities.
"We are excited to expand our LED ceiling solutions lineup to include this very efficient, high-value Recessed Troffer," said Pat Treadway, Director of Product Marketing. "The ECO-T LED Recessed Troffer represents the crossing point to making LEDs a cost effective replacement for fluorescent troffers, and we feel this is an important option to businesses and organizations trying to stretch renovation and construction budgets."
The ECO-T LED Recessed Troffer, offered in 2'x2' and 2'x4' sizes, is designed for installation into T‐bar grid ("drop inˮ) ceilings and offers a high color rendering index (CRI) of 84. The ECO-T is offered in correlated color temperatures (CCT) of 3500K, 4100K and 5000K, and comes standard with a dimming driver and prismatic clear diffuser for higher lumens; a translucent diffuser for softer illumination is also available. The 2'x2' 45-watt model replaces a typical 2U32 fluorescent fixture and exceeds 3700 lumens; while the 2'x4' 55-watt model replaces four F32T8/28W fluorescent lamps and exceeds 4900 lumens. In a typical classroom, this can equate to a 29 percent savings in energy without any reduction in lighting levels.
In new construction projects, after a typical $50 rebate, the ECO-T LED Recessed Troffer costs less than a typical fluorescent fixture and delivers an instant ROI, and will continue to reduce overall operating costs throughout the lifetime of the fixture. When dimming is also utilized, the energy savings enables an even shortened payback period. Given the total cost of ownership combined with available rebates, the ECO-T is a competitive replacement for typical fluorescent troffers.
Unlike fluorescent fixtures which throw as much as 50 percent light upward, wasting light towards the ceiling, the ECO-T LED Recessed Troffer emits 90 percent of the light in a downward 60-degree beam angle so all of the projected lighting is effectively projected onto surfaces or tabletops. Also, while fluorescent fixtures can buzz and flicker, and may contribute to headaches and eye fatigue, the ECO-T LED Recessed Troffer is constructed with LM-80-rated LEDs and enables silent and flicker-free operation.
Designed with the look of a traditional fluorescent fixture, the ECO-T LED Recessed Troffer offers a classic recessed housing with LED strips that resemble fluorescent lamps, but operates with the energy saving and long life (50,000 hours) benefits of LED technology. The housing features a room side access door for serviceability and for re-lamping the replaceable LED strips. A discreet, interior mounted Class2 UL-listed LED driver is housed inside the luminaire center cover, and maintains an IC-Rating for the fixture.
The luminaire is RoHS-compliant and ETL-, cETL- and FCC-listed for dry locations. LM79 data is available, along with IES files and photometrics. Lighting layouts are available upon request.