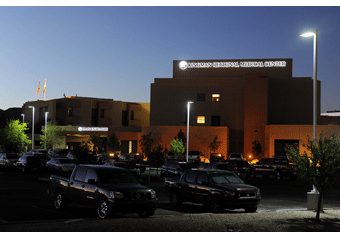 Pressed on by its security department that was anxious to have better lighting in the hospital's parking lot for the security cameras to operate more efficiently, the Facilities Maintenance Department of Kingman Regional Medical Center approached Howard Industrial Sales in nearby Chandler to initiate energy savings comparisons and a lighting upgrade proposal in order to increase the light output in its vast parking lot.
Nestled in the foothills of the Hualapai Mountain range, the award-winning Kingman Regional Medical Center (KRMC) is a community-owned 235-bed healthcare facility located in Kingman, Arizona—the seat of the Mohave County. It is the largest provider of health and wellness services in northwestern Arizona and has been often recognized as one of the nation's top 100 hospitals in the State of the Nation's Hospitals report. At 3,500 feet in elevation, the hospital sits in a beautiful high-desert rural community.
The medical center was using 250-watt HPS lamps in 88 fixtures throughout the campus, running on voltage ranges from 120VAC to 277VAC. The poles are mostly around sixteen to twenty feet high, with some in the twenty-four to twenty-six feet; they are spaced forty to sixty feet apart in the parking lot.
When Howard Industrial Sales made a demonstration of the 88-watt LEDtronics SLL003P-30X2W-XPW-005 LED luminaire, the chairman of the board, managers and other executives were all impressed by the light output and the resulting detail clarity in the security cameras, not to mention the energy savings of 202 watts per fixture.
The proposed upgrade to LED lighting also coincided with the KRMC embracing the green movement in recent months and undertaking a leadership position in environmentally friendly solutions in their community.
An initial order to replace the 88 HPS lamps was shipped within a few months, followed by another shipment to bring the total to 104 LED lamps. The shoebox-style LED luminaires use over 60 percent less energy than the conventional HPS units that were being used, and require much less maintenance in the way of bulb and ballast replacement. The LEDtronics LED parking-lot lights are provided with a five-year warranty and will provide useful light with no more than 30 percent light degradation at 50,000 hours of operation. This results in an estimated savings slightly in excess of $100,000 during that time frame.
What started as a project to get better-lit images out of the security cameras ended up as a whole package of energy savings as well as security benefits and better lighting for users of the parking lot. Due to the success of the project, Kingman is now looking at other areas within the facility where LED lighting might bring energy savings as well as reduce maintenance labor and time.
Photo courtesy of Rik Simon/Off Broadway Photography.