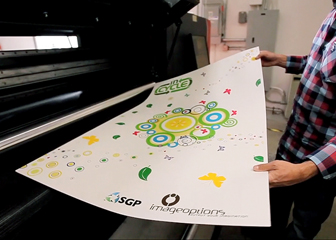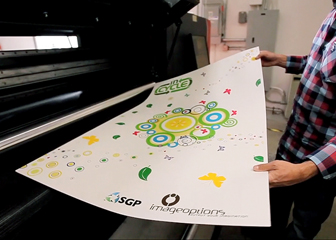 MicroGREEN Polymers, Inc
. has unveiled a new Printing Starter Kit designed to help printers present InCycle® sheet to their customers and enhance their sustainability. The Printing Starter Kit is available for $150 through Agfa Graphics, GPA Specialty Substrate Solution, Laird Plastics, SABIC Polymershapes, and other distributors nationwide.
The kit includes:
Ten blank 28"x40" 30 mil sheets
Ten blank 28"x40" 40 mil sheets
Ten blank 28"x40" 60 mil sheets
InCycle informational and promotional materials
"In response to the rapidly building demand from printers to be able to cost-effectively create samples for their brand customers, we are excited to offer this kit to printers as they continue to guide their customers to new, more sustainable materials," said Tom Malone, CEO of MicroGREEN Polymers, Inc.
InCycle sheet is a revolutionary transformation of recycled water bottles (PET) into a low-source, recyclable, printable plastic sheet stock, and is offered as a cost-effective, sustainable substrate to the print, signage, packaging, and food service industries. InCycle sheet is made with recycled PET, which is mechanically expanded to make it lightweight while reducing the amount of plastic required. Therefore, signage and packaging made from InCycle have a significantly lower environmental footprint. Most importantly, signage and packaging made from InCycle sheet are 100% recyclable in the PET recycling stream that exists today, enabling retailers, consumer packaged goods (CPG) companies, and quick-service restaurant operators to continuously recycle their signage and packaging, rather than send it to the landfill.
InCycle sheet has an integral skin that can be printed directly on both sides with excellent ink adhesion and a natural dyne level of 40-45, so it does not require a top coat. The integral skin is naturally 92 bright white without the addition of pigments. It is UV resistant, waterproof, and does not blister, swell or warp, making it ideal for outdoor conditions. The material is backlit ready and provides high image illumination.
InCycle sheet will be on display for designers and printers to experience and evaluate at Graph Expo in Chicago, September 11-14th in Agfa's booth #1227 and GPA booth #4312, and at SGIA in New Orleans, October 19-21st in booth #1260.