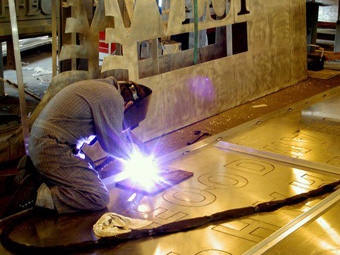 Sign Effectz, Inc., a custom sign manufacturer that blends creativity with technology to provide customers with visually effective and physically durable signage, has been nominated for 2013 Wisconsin Manufacturer of the Year Award (MOTY). The MOTY award program is an annual recognition of excellence in manufacturing. It celebrates the successes of manufacturers in the state: their innovations, philanthropy, technological advances, commitment to customer satisfaction, and quality jobs.
Sign Effectz, Inc. launched four strategic initiatives in 2013, focusing on aggressive sales revenue growth and building the plant infrastructure to support that growth.
1. Grow sales revenue
2. Build manufacturing capacity
3. Improve processes & procedures
4. Measure & monitor
The company is in the small manufacturer category. Winners will be announced at an awards banquet on February 27, 2014 at The Pfister Hotel in Milwaukee, Wisconsin.