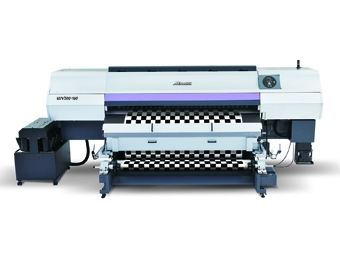 Mimaki USA, Inc., the American division of Mimaki Engineering Ltd., Nagano, Japan and a leading manufacturer of wide format inkjet printers, today introduced the new UV curable inkjet printer UJV500-160 which attains a maximum print speed of 645 square feet/hour, and supports long lasting, energy saving LED UV lamps. The UJV500-160 is available with LUS-200 3M inks in late Fall with the MCS Warranty.
The UJV500-160 employs a new LUS-200 UV ink which has been jointly-developed with finished graphics warranty. This warranty covers fading, cracking, peeling and other surfaces such as vehicle wraps and fleet graphics where stretching could crack other 3M. When applied onto 3M media, and installed using 3M guidelines, this ink carries the 3M™ MCS™ Warranty, widely recognized as the industry's most comprehensive aspects of graphic performance. The LUS-200 ink is ideal for applications with curved inks.
The unprecedented productivity, the comprehensive 3M MCS Warranty, and the wide media compatibility open up new possibilities in the inkjet signage industry.
Main Features
Mimaki's LED UV cure technology delivers a print speed of up to 645 square feet/hour with high image quality. This speed and quality represent the next generation of performance. A maximum print speed of 645 square feet/hour can be achieved. This dramatically improves work efficiency for the user.
+ Since UV inks dry immediately when exposed to UV light, no drying time is required.
+ The new UV ink type LUS-200 with the 3M™ MCS™ Warranty ensures outdoor curved surfaces.
+ Environmentally-friendly UV printing generates little VOCs. Curing is performed with a power-saving and long-lasting LED UV lamp.
About the 3M MCS Warranty
3M warrants that printed graphics which are made using 3M branded components and Mimaki Markets: Besides vehicle wraps, fleet graphics is a prime marketplace for the high-speed production of the UJV-500/160. Many trucking firms with multiple graphic needs are installed in accordance with 3M's instructions, will maintain satisfactory performance for a certain time period depending on the application. Graphics manufacturers in the U.S. that use the LUS-200 ink will be able to register for a personalized Certificate of 3M MCS Warranty at www.3Mgraphics.com/warranties.
"The 3M MCS Warranty helps graphics manufacturers assure brand owners that they are purchasing a quality product from a quality provider," said Chad Klostermann, inks and warranties marketing manager, 3M Commercial Graphics. "We're proud to have been the gold standard in the industry for more than thirty years."
For more information, please visit http://www.mimakiusa.com.
About 3M Commercial Graphics
3M Commercial Graphics help customers worldwide build brands by providing total large-format graphics and light management solutions. 3M manufactures or certifies lighting solutions, graphic films and protection, flexible substrates, and inks and toners used to create large-format finished graphics that are consistent, reliable and durable.
Learn more about 3M graphics products and programs by calling 800/328-3908 or visiting www.3Mgraphics.com.