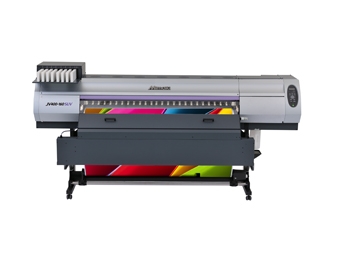 Mimaki USA is excited to announce the official release of the JV400SUV solvent UV inkjet printer. This revolutionary new printer utilizes a unique new ink that combines the flexibility of solvent with the durability of UV cure ink.
The JV400-130/160SUV prints in four colors (CMYK) at speeds of up to 193 square feet per hour (18 square meters) in draft mode.
During the printing process, the solvent compound is absorbed into the ink receiving layer of the media and the pigment is settled on to the media. The printed ink is then cured with a special UV light process that results in a smooth, beautiful, high-gloss finish that simulates coating while maintaining the bright colors of solvent print. UV curing also results in strong resistance to scratching and is weatherproof.
Once finished, the prints are completely dry and ready for post processing. No outgas time is needed before lamination.
The JV400SUV will come bundled with RasterLink6 RIP software. RasterLink6 offers an intuitive and user-friendly single window interface. This exclusive RIP software easily converts special colors to Pantone colors and CMYK color matching to ensure color integrity. Users can measure a target color with an optional colorometer and utilize the integrated Color Picker System to reproduce the desired target colors.
The JV400SUV and RasterLink6 will be showcased at the upcoming SGIA Expo in Orlando, Florida from October 23-25.