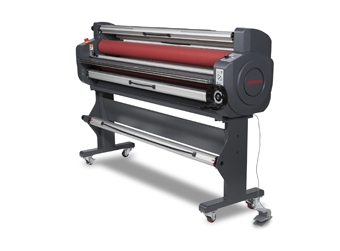 Heat-assist provides superior finishing. LA Series laminators are heat-assisted devices with a maximum temperature of 140˚F (60˚C). This heat assistance improves overlaminate film adhesion, particularly to surfaces printed with UV ink, and reduces the potential for silvering effect created by pressure sensitive overlaminates.
Fast throughput speeds. Laminating speeds of up to 295 linear inches per minute—or nearly five inches per second—means that the finishing can keep up with production and reduce bottlenecks.
Simple and reliable operation. This easy-to-use laminator includes all functions on one operation panel, with easy access to the pressure handle and foot pedal. Additionally, a take-up reel makes it easy for one person to control the entire process.
Mimaki Vision Laminate. Designed specifically for use with UV inks and LA Series laminators, Mimaki Vision Laminate 310 (Gloss) film offers fine finishing with a glossy feel while maintaining color brightness of the print. This high-quality, heat-assisted, overlaminate is also a cost-effective alternative to cold laminating films.
LA Series laminators with Mimaki Vision Laminate film are the ideal companions to a UCJV Series UV-LED cut-and-print device. Because UCJV prints are instant-dry, they can be immediately finished on an LA Series laminator. This complete, harmonized system ensures reliable performance and quality output for those times when a protective overlaminate is preferred.
LA Series laminators are expected to be available beginning in November 2017. Two models will be available: the 62.2-inch (158cm) LA-160W model and the 66.9-inch (170cm) model. Mimaki Vision Laminate 310 will also be available in two sizes: 310-137 (54-inch) and 310-152 (60-inch).
For more information, visit www.mimakiusa.com.