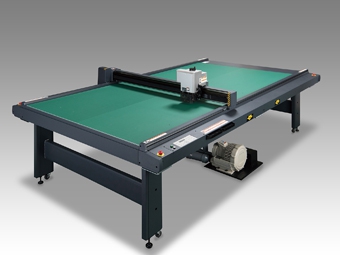 The CF22-1225 will be on display in the Mimaki USA main booth 1231 at the Specialty Graphic and Imaging Association (SGIA) annual exhibition scheduled for October 10-12 in New Orleans.
Key Features
Larger work area. The CF22-1225 cutting plotter is based on the proven Mimaki CF2 platform, providing reliable cutting performance since 2005. The new CF22-1225 features a work area that can accommodate oversized media and allows a full 4-foot by 8-foot maximum cut size so print service providers can move materials directly from a standard flatbed printer.
Improved workflow efficiency with ID Cut function in RasterLink6 plus software. The CF22-1225 cutting plotter is compatible with FineCut8 and the new RasterLink6 Plus software. This new, feature-rich version of the widely used Mimaki RasterLink RIP software includes an ID Cut function to make printing and cutting easier and faster. Along with registration marks, RasterLink6 plus software will include a bar code on output from a Mimaki printer driven by this version. The barcode, read by the crop mark sensor on the CF22-1225 cutting plotter, contains cutting and rotation information enabling the CF22-1225 cutting plotter to automate the cutting process. This function is particularly useful when running nested print-cut jobs, as the cutting plotter continuously reads the data for both single and ganged jobs.
Multiple cutting head and tool holder configurations. Users can choose from several cutting heads that offer a range of tool holders to hold a variety of cutting, creasing and drawing tools, depending on the application. Swivel knife, tangential knife, reciprocating knife, creasing wheel and pen options are all available with a wide range of blade and creasing options. A broad variety of materials can be cut including corrugate, styrene and foam up to 20mm thick for packaging and POP applications; rubber, resin materials and plastics for industrial applications; and more.
Multiple connectivity options. In addition to the legacy RS232C connection, the CF22-1225 cutting plotter also supports USB 2.0 and Ethernet connections.
Redesigned control panel. The CF22-1225 cutting plotter features an updated user-friendly control panel with shortcut keys for the most commonly used functions and an easy to read LCD display.
Total solution for on-demand production
The CF22-1225 cutting plotter is an ideal match with the JFX200-2513 UV-LED flatbed printer for on-demand production of seasonal POP displays or exhibit components. It is a complete system with the addition of ArtiosCAD Designer Solution software for creating custom packaging or prototypes.
Availability
CF22-1225 cutting plotters are expected to be available beginning in December 2017.