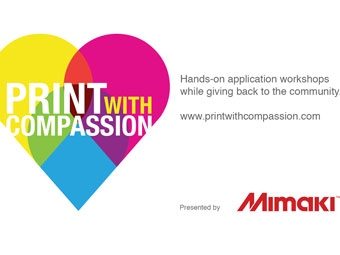 Mimaki USA, a leading manufacturer of wide-format inkjet printers and cutters, launched "Print with Compassion," a series of educational sessions and hands-on training using Mimaki products that will produce real-world objects and materials for use by local communities and organizations throughout the U.S.
The initial Print with Compassion program will be co-located at the International Sign Expo, April 9-11, 2015 to be held at the Mandalay Bay Convention Center in Las Vegas.
Participants in the Print with Compassion program at the International Sign Expo will help create a kindergarten environment while learning each step of the digital print process using solvent, latex, UV, and dye-sublimation technologies. Hands-on sessions include Design for Large Format Basics; Color Management for Non-Color Managers; Cut-and-Print, UV Printing, and Textiles Print Production; and Finishing and Assembly. A business session on how to integrate new technologies into existing operations and an ROI overview will also be presented. All objects and materials created during the program will be donated to a local charity.
The program runs on Thursday and Friday, April 9-10, 2015, with sessions ranging from 60 to 90 minutes each. There is no charge for Expo attendees, though pre-registration is required. Participants must also be registered to attend the International Sign Expo. For a list of the session times and to register for both visit www.printwithcompassion.com.