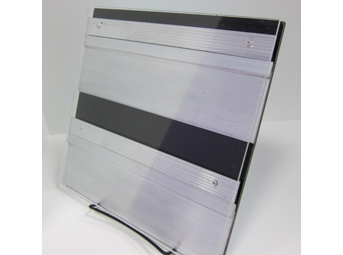 Monarch Metal has released a new hanging system for mounting HPL Phenolic, Glass, and ACM panels. Monarch's engineering team worked with 3M and the major HPL panel manufacturers to devise a system that would reduce labor and installation time.
Monarch's MFTAPE system includes two strips of 3M's high-strength VHB Architectural Panel Tape as shipped. To install, you simply prepare the surface, peel and stick the Monarch profile on the back of the panel, and your panel is ready to engage with the Monarch Z clip mounted on the wall. When installed correctly, each lineal foot of the MFTAPE system can support 7.5 pounds in shear, using a 5x safety factor. For more load-bearing capacity, you would just add additional lengths of the MFTAPE system as appropriate.
The MFTAPE system can be used indoors and outdoors with non-porous substrates such as HPL phenolic, glass, and aluminum composite panels. The product is available in 12-foot lengths and pairs with the standard MF375 Monarch extrusions.
Chris Smith of Monarch Metal commented, "Monarch continues to focus on creative ways to save our customers time in installations."