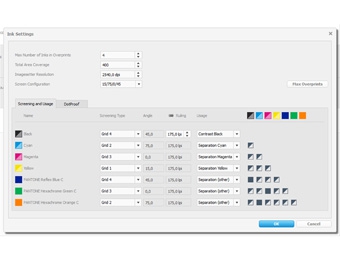 Companies interested in diversifying their print product portfolios all share at least one requirement: color must be consistent throughout all print processes. Projects printed on any traditional or digital press—from packaging to P-O-P to marketing brochure—must match today, and a year from now. At Graphics Canada, GMG, the leading developer and supplier of high-end color management software solutions, will show its wide range of color management tools at booth #5144. The booth will focus on the most release of GMG OpenColor, the powerful profiling system that has been rapidly adopted by most of the major suppliers and brands worldwide.
"GMG delivers color management solutions based on outstanding technologies that respond to the challenges facing the entire printing industry," explains Joe Varone, GMG Americas President. "We would be happy to talk any printer—commercial, packaging or wide format—and discuss how they can improve their color challenges."
GMG will be featuring its latest version of GMG OpenColor, the award-winning multichannel profiling software—a powerful profiling system that is easy and quick to use to characterize offset, flexo and gravure printing processes with ten-plus colors of overprinting inks. It does so by applying mathematical models that predict the ink interplay for specific processes and substrates without requiring extensive fingerprint data. In fact, even without any data, GMG OpenColor has the capability to predict process-specific ink overprints. GMG OpenColor is now able to quickly create GMG DotProof profiles with spot colors for special substrates like foil or metal, achieving reliable color matching results.
GMG OpenColor can dynamically create and deliver best-quality separation and preview profiles to GMG ColorPlugin, in Adobe Photoshop and HYBRID Software's PACKZ. It offers a new function to calculate separations on the fly, in a very flexible and convenient way via rules that can be applied to whole spot color libraries for calculating the best matches for the separation. GMG OpenColor 2.0.6 opens up possibilities for other third-party applications.
Projects for a brochure, large-format banner, or packaging have at least one thing in common: customers demand that color must be exact. GMG ColorServer provides fully automated color conversions, guaranteeing consistent results for a variety of print processes and substrates. Separation and conversion is no longer associated with an enormous amount of work. Supporting GMG ColorServer is GMG SmartProfiler, a software-wizard that allows any user to calibrate, recalibrate and profile digital, large format, and traditional printing systems easily and without advanced knowledge of color management. With a centralized color management system, different front ends, RIPs and printing processes no longer need to be individually configured and synchronized—whether digital or analog.
GMG ColorProof offers uncompromising color fidelity and is compliant with globally accepted printing standards (such as ISO 12647:2016, PSO, GRACoL and SWOP). Its reliability and remarkable performance make it an indispensable tool among leading color management experts. GMG ColorProof comes pre-loaded with color profiles of all common standards, so users can get started right away. Select the printer, calibrate it, and users are ready to print their first proofs in just a few seconds. Using GMG ProofControl, a proof label and control strip guarantee quality control for any proof. Information about a proof's color accuracy is always available—important for consistent reproduction and vital for legally-binding contract proofs.
To support GMG ColorProof, the distinct advantages of using GMG ProofMedia will be shown, bringing seamless quality and reliable contract proofing. GMG's media portfolio includes its recent GMG ProofMedia studio OBA 150 with high optical brightening agents, which is a perfect choice for proofing uncoated production paper.
"Canada—and specifically, Toronto—has a very competitive community of printers who not only compete among themselves, but with printers over the border in the US," notes Varone. "Any competitive edge can be significant, and we believe we can deliver tools to truly differentiate each of them. We look forward to meeting them at Graphics Canada."