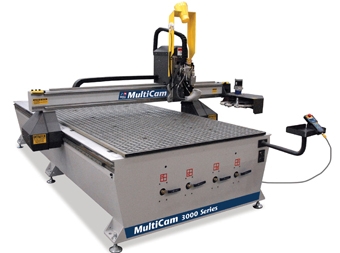 International leader in mechanized CNC cutting solutions, MultiCam, offers an innovative, heavy-duty, precise cutting system to the plastics and acrylic fabricator.
The 3000 Series CNC Router has an abundance of standard features that are normally associated with more expensive machines. Some of the features include an all-steel plate frame, automatic tool changer, and a 5.5 HP, 32,000 RPM spindle that allows for a precise edge finish when machining plastic. For acrylic fabricators, the diamond polishing acrylic router bit option produces near-optical edge quality on parts.
The 3000 Series router also comes in a variety of sizes and features a space saving, moving-gantry design. In addition, MultiCam has vacuum fixturing options specifically tailored to the plastics industry.