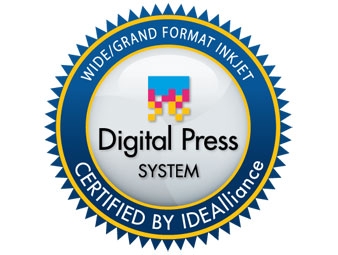 Mutoh America Inc., a leading manufacturer of large format inkjet printers and accessories, has received IDEAlliance G7 Certification for its G7 Calibrator software; and, Wide Format Digital Print System Certification for two ValueJet printer models, the VJ1624 and VJ1638X.
IDEAlliance announced at the Graph Expo show in Chicago, that Mutoh's G7 Calibrator software, part of its ColorVerify Pro/G7 process control solution, has passed all of the tests for G7 Certification and that the software solution is now G7 certified. IDEAlliance certified that G7 Calibrator meets or exceeds established industry tolerances for excellence and is capable of calibrating a printing device to meet the G7 grayscale definition using four 1-D curves.
Mutoh also received confirmation that two of its printers were certified by IDEAlliance to comply with international industry standards. Both the ValueJet 1638X and the ValueJet 1624 meet or exceed IDEAlliance requirements for color reproduction to ISO 15339 standards, color accuracy to CGATS CRPC6 (GRACol 2013) reference standards, grayscale reproduction (ANSI/CGATS-TR015), color gamut, print uniformity and repeatability (ISO 12647), registration and light fastness (ASTM D3424). Mutoh is the first digital printer manufacturer to have received this certification.
"This is a significant achievement for Mutoh, particularly in the prepress and commercial print markets," said Christopher Brown, engineering manager for Mutoh America's Advanced Engineering Group (AEG). "The 64-inch VJ1624 and 1638X are high-speed large format solvent printers, and what this certification says is that they can double as proofers, too."
Brown added, "For a commercial print shop looking to add large format outdoor sign printing to its repertoire, the 1624 and1638X are now an obvious choice to serve both printing and prepress proofing needs – very few manufacturers can say that."