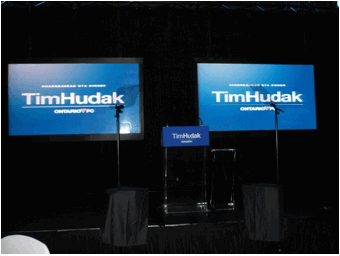 To make sure every attendee at the Ontario Progressive Conservative Party's November 2011 Greater Toronto Area Dinner could clearly view party leader Tim Hudak's speech, the event's production company Metalworks Production Group knew they needed a super-bright, vivid display that could be set up and broken down quickly and easily, viewed from any angle and was bright enough to be seen clearly from hundreds of feet away.
To find the right solution for this event, Metalworks turned to the audiovisual experts at APG Displays, who recommended they deploy two NanoLumens NanoFlex 112-inch flexible digital displays on either side of the speaker's podium to allow for optimal viewing for all attendees.
And it's a good thing they did, because the event turned out to be the largest and most successful dinner in the party's history, drawing more than 800 supporters and candidates and raising nearly (Canadian) $1.5 million for the party.
Because the dinner was just a few hours long, it was vital that Metalworks Production Group be able to set up and break down the digital displays quickly and easily without needing a whole crew of workers. The NanoLumens NanoFlex displays were the perfect solution for this because they weigh just eighty-five pounds, need minimal labor to install, and don't require any heavy or cumbersome rigging. In fact, NanoLumens is the only manufacturer that sells a flexible, durable, lightweight digital display solution that is bright enough to be seen from hundreds of feet away and provides a vibrant, consistent edge-to-edge image quality no matter the viewing angle or how close the viewer is to the screens.
"Metalworks Production Group had never used the NanoLumens displays," said David Weatherhead, vice president of APG Displays, "so they really were shocked when we told them about the NanoFlex 112-inch display that could be set up and broken down in less than two hours.
"Using a projection screen or a traditional digital display would have required more people and much more time to install, so the NanoLumens displays turned out to be the perfect solution for the event. The picture quality is amazing, and they looked beautiful from every spot in the room."
According to NanoLumens President and CEO Rick Cope, "The Greater Toronto Area Dinner is exactly the kind of environment that NanoLumens Flex displays were made for. Special events are a rapidly growing market for digital displays, provided that the displays can be moved in and out quickly and can be deployed in every type of room environment with minimal structural requirements.
"NanoLumens Flex displays make it possible for events to be held in any environment—indoors or outdoors without regard to weather—and provide the opportunity to create a mobile messaging platform by moving the lightweight display to different locations throughout the event."
First introduced in 2010, NanoFlex™ digital displays remain the only solution of their kind. They conform to fit any surface; are thin, lightweight and energy-efficient; and can be mounted as easily as a work of art.
Designed and assembled entirely in the United States, NanoLumens displays are now available in both flexible and non-flexible frames in four product lines: NanoFlex™ and NanoWrap™ flexible displays; NanoSlim™ non-flexible rectangular displays; and NanoShape™ non-flexible round, square, and triangular displays.
APG Displays' rental division searches the world for the most innovative, high-impact audiovisual products and brings them to special events, meetings, and tradeshows in Canada and the U.S. The company has worked with some of the largest exhibit, conference, and production houses in the business, providing tailored support for each client. They have also partnered with some of the biggest A/V names in the country with its exclusive Trade Partner Program. APG Displays is a member of MPI, ITRA, TSE, ISES, and Tourism Toronto special event and rental organizations.
Headquartered in Norcross, Georgia, NanoLumens, Inc., is a privately held corporation engaged in the research, product development and component design for unique flexible displays that address a yawning technology gap in the $14 billion digital display industry. NanoLumens has built a portfolio of more than twenty international families of issued and filed patents on its flexible display technology that effectively address the commercial market void between relatively small flat-panel displays and huge, limited application LED boards. NanoLumens technology is not constrained by standard sizes and shapes, or by the size, noise and cost issues associated with commercial LED products.