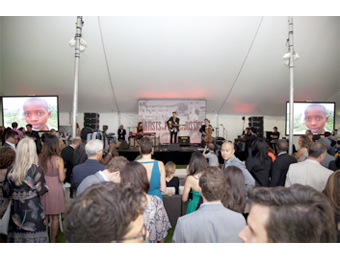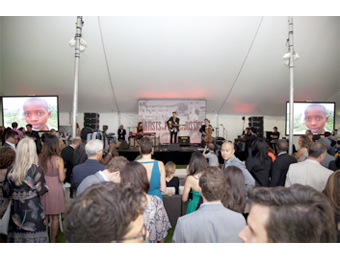 For the second year in a row, NanoLumens® displays were used to support the Artists for Peace and Justice charity event at the 2012 Toronto International Film Festival. Artists for Peace and Justice is a fundraising effort that encourages peace and social justice, and this year's event raised money to help build schools and art centers in Haiti.
Two 144-inch NanoSlim™ displays were set up on both sides of the stage and showed guests the on-stage action during the event, which included several musical performances. "We used two NanoLumens displays to give the crowd the best possible view of the stage," said David Weatherhead, vice president of APG Displays, the company that managed the entire event and NanoLumens' Canadian distributor. "Because the event was held in a tented venue on the lawn of a large estate, power consumption was a concern, as we were using a generator. NanoLumens displays not only require low power, but also are capable of incredible brightness."
NanoLumen's displays feature a seamless, edge-to-edge picture quality that can be viewed from any angle or any distance without color shift or picture drop-off. This enabled everyone in the large crowd to have a view of the two screens. "NanoSlim displays offer the ideal picture quality and size for this type of event," said Josh Byrd, director of Marketing at NanoLumens. "With a big crowd, you need to have a display setup that allows every person to see what is happening on stage."
The Artists for Peace and Justice charity event was a success, and it helped to raise over $500,000 within just four hours.