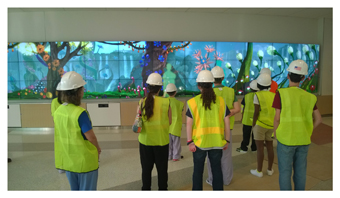 NEC Display Solutions of America, a leading provider of commercial LCD display and projector solutions, announced that Nemours/Alfred I. duPont Hospital for Children in Wilmington, Delaware, has outfitted its new interactive "Discovery Zone" with forty-five NEC X464UN forty-six-inch displays.
Opening Thursday, September 18, and part of a major expansion of the hospital, the Discovery Zone, located in full view as soon as families walk into the new, majestic five-story atrium, is comprised of a 50-foot-wide-by-9-foot-high NEC digital video wall where up to 30 kids, teens, and adults can interact at one time. Magical creatures and blooming plants appear on the digital canvas. Using Microsoft Kinect2 technology, the Discovery Zone lets kids interact with these objects and expand their imaginations.
"We are so looking forward to watching kids and families play in the Discovery Zone," said Dr. Neil Izenberg, chief executive of Nemours Center for Children's Health Media. "We know this experience is going to be transformative for many children, their siblings and parents."
The Discovery Zone was designed by Kinesis Studio of San Francisco, which creates large scale gestural technology experiences frequently deployed as entertainment and therapeutic stations in children's hospitals. Feedback from Nemours educators, nurses, doctors, therapists, kids and others helped bring the digital canvas to life.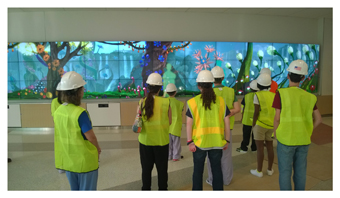 "The Discovery Zone is a marriage of gesture technology, animation and creative story-telling, the biggest install of its kind in a hospital," said Greg Richey, CEO of Kinesis. "We wanted displays capable of delivering brilliant imagery, and NEC Display fulfilled that promise."
The X464UN direct LED-backlight LCD displays deliver improved brightness uniformity, reduced power consumption and mercury-free components.
The UN displays also have a bezel gap of just 5.7mm. With DisplayPort 1.2 multi-streaming, they are capable of delivering ultra-high definition resolutions across the entire canvas of displays.
"We are delighted to be a part of such a worthwhile initiative, especially one that will bring joy to children during their hospital stays," said Ashley Flaska, vice president of Marketing for NEC Display. "This combination of video wall and gesture technology expands all our imaginations, and underscores the commitment that Nemours and Kinesis Studios have made to creating something spectacular."