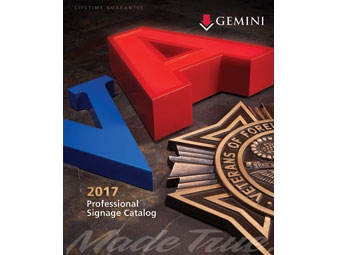 Gemini, an industry leader in the wholesale manufacture of dimensional letters, logos and plaques, announces the availability of the 2017 US Professional Signage Catalog and price list for sign design and recognition professionals.
This essential sign and recognition informational resource features many new dimensional letter, logo, and architectural plaque product platforms that leverage Gemini's ever-growing made-to-order manufacturing capabilities.
"With an easy-to-understand layout, simplified pricing, and new tabs for quick content reference, the catalog provides a comprehensive overview of Gemini's extensive products and practical resources to help our reseller partners grow their businesses," says Kenan Hanhan, VP of Marketing at Gemini.
The catalog showcases exciting developments at Gemini, including:
New UL certified LED illuminated products with published pricing.
The new fabricated aluminum letter and logo product line with letter heights up to 120 inches.
Greatly-expanded stainless steel letter and logo height, depth, and narrow stroke fabrication capabilities.
New printing technology for custom shapes and logos.
Simplified, easy-to-understand pricing with quick reference tabs to quickly build pricing estimates.
A simple guide to using the online pricing Catalog Estimator, allowing authorized resellers to instantly price out projects and submit orders.
To request a Gemini professional signage catalog, call Gemini at 1-800-538-8377 or email [email protected]