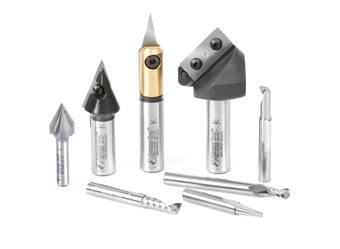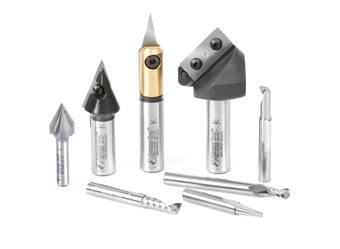 Amana Tool, manufacturer of industrial-quality carbide-tipped, solid carbide and replacement carbide cutting tools, has announced immediate availability of an eight-piece sign-making router bit set (item #AMS-130). The set is specially designed for creating signs and other CNC projects in a variety of materials—sincluding wood, plastic, acrylic, aluminum, composite materials, and solid surface, among others. Each router bit is manufactured from Amana's exclusive grade carbide according to stringent quality standards.
"Amana created this premier router bit set to enable sign-makers to quickly and easily build a basic collection of popular CNC sign-making router bit profiles," said Frank Misiti, Amana Tool's technical director. "This versatile set contains Amana's proven industrial-quality carbide cutting technology that delivers superior performance for sign-making applications in a wide variety of materials."
The eight-piece CNC sign-making set, which comes in a reusable hardwood storage case with a clear lid, includes the following router bits:
In-Groove™ Insert Engraving System with 30° V-tip Insert Knife (items #RC-1076 and #RCK-360): Amana's In-Groove insert engraving system features industrial-quality solid carbide inert knives that can quickly and easily be interchanged on a single tool body for a variety of applications in laminated materials, veneers, MDF, plastics, wood and solid surface. The sign-making collection contains a tool body and 30° knife, but users can easily add on to the set with any of the In-Groove's 30 available knife profiles, such as V-shaped tips that can also be used to engrave aluminum, brass and copper.
Solid Carbide Up-Cut Spiral Ball Nose (item #46426): The high mirror-finish solid carbide up-cut spiral ball nose router bits are designed to eliminate tool marks that commonly appear when used with plastic and solid surface materials. Due to the highly polished finish and unique tool geometry, the spiral ball nose router bit delivers superior surface finish in materials including plastics, solid surface, aluminum, wood composite and natural wood.
Plastic and Aluminum "O" Flutes (items #51404 and #51402): The solid carbide plastic and aluminum "O" flute router bits with mirror finish produce clean, smooth cuts in plastic and aluminum materials. Amana's spiral plastic cutting "O" flute router bits (item #51404) are designed for use in acrylic materials such as Plexiglas® and Lucite®, nylon, ABS, PE, acetal, PET, HDPE, UHMW, polycarbonates, polypropylene, wood, and solid surface. The aluminum cutting "O" flute router bits (item #51402) provide superior cutting results in aluminum, brass, copper and other non-ferrous metals. Both the plastic cutting and aluminum router bits are specially designed with a right-hand Helix to eject chips up, helping to eliminate chip weld in plastic materials.
V Groove (item #45705): With the V groove carbide-tipped router bits, users can cut decorative V grooves and lettering on signs. The bits can be also used with an edge guide to chamfer and bevel edges.
Carving/Engraving (item #45780): Amana's carving/engraving router bits are ideal for fine-line engraving in wood and composite materials. Featuring a two-flute configuration and modest length (which minimizes vibration), the router bits produce crisp, clean cuts.
Insert V-groove (items #RC-1102 and #RC-1045): Amana's innovative CNC insert V groove tool design uses a high grade carbide insert knife which, enabling users to rotate the insert for a brand new cutting edge once one side shows wear. The bits' secure locking screw system ensures maximum safety and maintains cutting accuracy in a wide variety of materials including plastics, solid surface, wood, and composites.
For more information, visit www.amanatool.com.