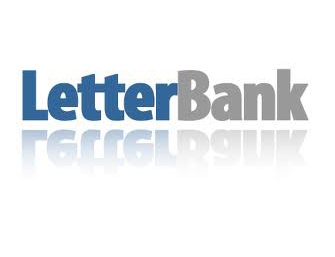 Many small businesses already have awnings, but if their business name changes or they move into a new location, your customers may benefit from this new product introduction: an awning lettering system from LetterBank. The self-adhesive lettering may also be used to add a phone number, new information, or a logo to their awnings.
Awnings and canopies are typically either lettered or "blank" with no wording; they typically are a single color and without much in the form of design. Add their logo and company name to it, and your customer will be able to benefit without having to spend the money to replace their entire awning. Even if you run an awning shop, the new LetterBank Products can add to your bottom line: Sell them an awning or update their old one as a lower-cost option. No more painting-out old names, no more sending your best hand-lettering person, and fewer customers passing up on the replacement "because it's too much money" to replace.
LetterBank is a business focused on providing basic and innovative sign products, and now the new awning lettering has been added to the popular sign products available online. The Web site letterbank.com shows retail pricing on the awning letters, so your customer will never know your cost.
In business since 1989 and fully online nationally since 2003, LetterBank already has a firm grasp of the changing needs of the markets. The concept of the DIY awning and canopy lettering and logo was born out of the need of small businesses to be able to call attention to their shop without having to spend for a new awning or to wait for a long period of time for a "paint-over" of the previous tenants name, or for new lettering to be put up. With the pre-spaced self-adhesive awning lettering, and the new "Mask" lettering, sign shops big and small can sell this to business owners, who can now put on their own logo, business name and wording, or contract your shop to install it for them. Want to cut it yourself? Order a few rolls to keep in stock, or order by the foot as needed.
What's new about the LetterBank lettering system is that it provides another option instead of having to spend for a new awning. There is no need to worry about the letters peeling or fading in weather extremes. The LetterBank DuraStik Awning Letters have been field-tested in sub-zero and tropical climates, and performs well in constant exposure. Estimated useable life is 10-15 years for white and 4-7 years for colors.
The self-adhesive lettering can stick to almost all woven fabrics available in the market. SunBrella and other plastic- and vinyl-based awning fabrics, and any fabric that has been treated with silicone or other non-stick surface treatments must be tested and pre-treated for proper adhesion. In some cases, conventional vinyl lettering may be a temporary fix for plastic and sunbrella-type materials. It is suggested that all awning fabric be cleaned before any letters are applied, and following testing for adhesion. Send for a small sample first by following the link on the awning page below. While the letters can ultimately be removed, they are designed to be a relatively permanent installation.
Is the customer's awning already lettered? The newest version of LetterBank's MASK awning product introduced is now available with a backing to cover over existing awning lettering, together with the pre-applied letters or as a separate piece.
For more information about the newly created LetterBank products for awnings, head to http://letterbank.com/awning/
Bulk material is available in 15, 30, and 54-inch rolls, and in 15-inch by the foot. Available in five colors.