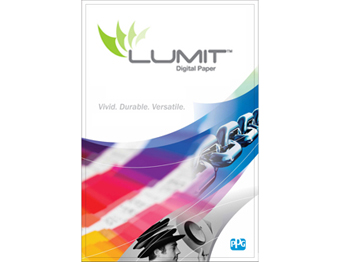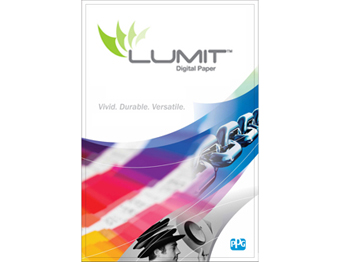 The TESLIN® substrate products group of PPG Industries announced that it is launching LUMIT™ digital paper at Labelexpo Americas 2012 in Chicago, September 11-13.
Lumit digital paper is a coated polyester film resistant to heat, ultraviolet (UV) light, water, chemicals and tearing. Optimized for high-heat, dry-toner laser-print applications, the brilliant white substrate enables vivid color and precise print reproduction as well as optimized toner fusion that bonds images to the digital paper surface for long-term color retention.
"We are happy to offer Lumit digital paper to our customers," said Michelle Welch, PPG business director, Teslin substrate products. "Adding this polyester-based synthetic to our Teslin substrate product portfolio expands the range of material choices for customers. Lumit digital paper performs well in various end-use print applications where a rigid, bright white, UV-resistant printing substrate is needed."
Welch said the Lumit digital paper brand name was selected to suggest a high-quality printed image in a way that appeals to global consumers and to differentiate the product in the marketplace. "We hope the new name helps bring attention to the brilliant image quality and vibrant color reproduction that the product offers," she said.
Because of its color fidelity, stiffness and durability, Lumit digital paper is ideal for indoor and outdoor print applications such as shelf strips and cooler-door labels in retail and grocery stores; plant tags, stakes and wraps in garden and nursery shops; and access-control wristbands for hospitals, water parks and amusement parks. It also suits specialty applications such as trade show displays, laser-printed construction material tags, non-laminated identification and membership cards, large-format banners, and restaurant menus and table tents.
Lumit digital paper is compatible with printing technologies such as dry-toner laser, offset lithographic, flexographic, screen, UV-cured inkjet, and thermal transfer processes. It can be ordered with coating on one or both sides of the sheet, in thicknesses of 2, 3, 4, 5, 7, 10 and 14 mils (51, 76, 102, 127, 178, 254 and 356 microns), and in widths of 2 to 60 inches (5 to 152 centimeters).
Lumit digital paper was formerly known as PrintMaster Laser substrate, a synthetic print medium introduced in 2002 by Convert-All, Inc., of Darien, Wisconsin, a company PPG acquired in 2011. According to Welch, "PPG's processing discipline, global footprint and coating expertise will enable us to provide customers worldwide with a quality product that can evolve continuously to meet dynamic industry needs."
The Teslin substrate products group is part of PPG's Optical and Specialty Materials reporting segment. Manufactured in Barberton, Ohio, Teslin substrate is a microporous sheet material that delivers a combination of benefits enabling various applications. The material's durability, static dissipative nature and exceptional print quality make it ideal for in-mold labeling and decorating, stand-alone and self-adhesive labels, and security and brand-protection label applications. Teslin substrate is a preferred material for cards, key tags and specialty print products as well as technology-focused applications such as e-passports and radio frequency identification (RFID) cards and labels. For more information, visit www.teslin.com.