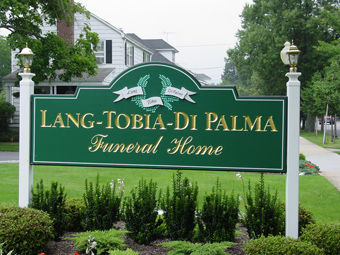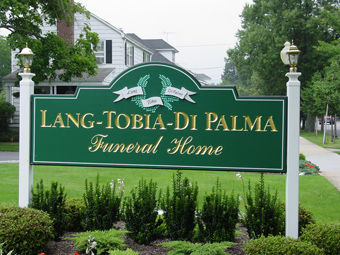 Photo courtesy of PVC Signs.

By Mike Antoniak
Post-and-panel signs have enduring appeal and sell year-in and year-out, no matter the state of the economy. "They're used anywhere directions and identification are needed for people to navigate with ease," says Bill Freeman, vice president for architectural sales at Howard Industries in Fairview, Pennsylvania.
And now there's more to this category than the standard rectangular signs of decades past. Today's post-and-panel systems come in all shapes and sizes. In fact, the possibilities are limited only by the designer's creativity.
"[Post-and-panels] are becoming more a part of the overall environment, with more effort to make them nicer and replicate the look of a building and its surroundings," says Nick Sanzo, sales and operations manager at iSigns, in Fairview, Pennsylvania.
According to Tom Breihof, CEO of SignComp in Grand Rapids, Michigan, "These are attractive signs that people are drawn to and will enhance the image of the end-users, while delivering cost-effective add-on and replacement opportunities in the future."
Sign shops and installers can custom-build each installation or choose from a broad range of post-and-panel kits being offered by sign wholesalers. "Post-and-panel signs are very easy to decorate," notes Freeman. "A simple peak or radius top addition to any post-and-panel sign can do wonders."
"A few simple design choices—such as panel height, font height, post diameters, insert thicknesses, and the use of paint or vinyl—can make a huge difference in their look," adds Jeri Bjorling, sales manager at ClearPath Signage Systems in Findlay, Ohio. "The chosen substrate material can also add a great deal of color and depth to projects, especially if it's an engravable product."
(NOTE: Photo, left, courtesy of Howard Industries.)
ClearPath's Exterior™/Post & Panel system line is available in anodized silver and anodized black finishes, and the company also offers a mill finish option that allows sign professionals/designers to paint the system any color they desire. Hundreds of different looks can be achieved with a variety of stackable, outdoor-weatherable parts.
"Post-and-panels stand out even more when used in conjunction with a collection of other harmonizing signs within the same system," says Bjorling. "Our customers have the choice of adding flags, totems or pylons, and interior signage to create an architecturally cohesive signage system. This approach will ensure a beautiful and uniform look throughout an entire location."
Durable and Appealing
"The advantage of post-and-panel signs is the durability they promise and the upscale looks you can achieve," says Monty Hopkins, co-owner/president of sign wholesaler Sign Solutions in Greenwood, Indiana.
Hopkins points out that schools and medical facilities are generating the most interest for these signs. "They're used a lot to identify a location and help people get around," he says.
For these applications, Hopkins says systems typically include two-inch-thick aluminum posts and an aluminum panel for permanent installation.
As far as the message goes, vinyl lettering applied to the panel is still most popular. (Note: Hopkins is also fielding increased calls for digital printing on adhesive-backed vinyl as a way of dressing up these signs.)
((NOTE: Photo, right, courtesy of Howard Industries.)
At sign wholesaler MetalCraft Industries in Ocala, Florida, the emphasis is on simplicity. "We try to offer a traditional look with a lot of options," says Owner Kevin Liles. "Our system is designed with routed panels and slotted poles for a nice, clean attachment without a lot of hardware."
To complement the panel—and to give these signs more of an upscale look—MetalCraft offers its customers a choice in the exterior design of the posts and finials. These can be combined (and customized) in several ways to make each post-and-panel unique to its environment.
For example, an installation at the Abraham Lincoln Presidential Library and Museum in Springfield, Illinois required post-and-panel signs to be installed outside the building on a sidewalk with a slight incline. "We had to make adjustments from one pole to the other and slot them at a slightly different height and pitch, so the sign would sit straight." says Liles.
Plastic Gains for Post-and-Panels
Buyers of the post-and-panel systems offered by PVC Signs of Bayport, New York have the option of having their graphics printed directly to the plastic panels or on adhesive-backed vinyl that is then applied to the panels. Or buyers can print directly to the panels with their own flatbeds, or PVC Signs can use its Roland SOLJET for inkjet printing on 3M™ Controltac™.
Photo courtesy of PVC Signs.
The company markets its products as a system of slotted posts with a keyway the panels are slipped into. "If you think of the low-end as cheap, painted MDO plywood and the high-end as aluminum, we fall somewhere in-between," says President Al Puig.
It's the durability, range of colors, and the "green" factor that are combining to boost the appeal of the Tuff'n Lute two-by-two-inch sign posts from Designovations of Stillman Valley, Illinois. This line is made from a polyester resin composite. Standard colors are white, yellow, and green, but the company can also produce them in any custom color with a minimum order of 5,000 linear feet. "They never rust or fade, and we can custom-drill the posts for mounting any type of sign," says Sales Manager Jim Anderson, noting his company guarantees these posts for up to twenty years.
Creating Sales Opportunities
While durability is a selling point of a new sign system, the look of a sign that's been in place for years can get stale and lose its visual impact. Given all that's now possible with today's post-and-panel systems (as well as digital graphics), this category offers the potential for a strong replacement market.
"Take pictures of old signs and use the tool you already have on your computer to show people what you can do with today's post-and-panel options," suggests Sanzo. "You have to educate people that you can do anything with it."
Both Sanzo and Freeman point to the ability to incorporate LED lighting into post-and-panel systems as a trend that can spur sales. "Today's LED technology allows for economical illuminated signs in compact sizes with highly visible messages," says Sanzo. "The LEDs are long-lasting and energy-efficient."
This standard product offers a way for those who entered the sign business via large format digital services to gain credibility with traditional sign products too. "If a sign shop already offers long-life, exterior-grade cut and printed vinyl graphics, the addition of aluminum post-and-panel signs can be a good direction for growing their business," says Sanzo.
Photo courtesy of iSigns.