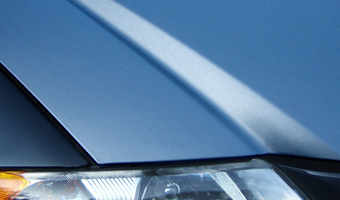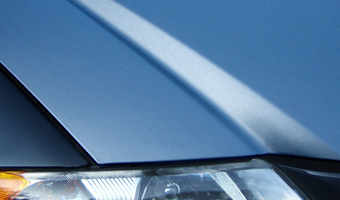 The 3M Graphics Market Center announces new brushed metal finishes for its Scotchprint® Wrap Film Series 1080. The brushed metal finishes join matte and carbon fiber to deliver a wide selection of colors and finishes for a broad range of wrap applications.
The unique new finishes are: brushed aluminum (1080-BR120), brushed titanium (1080-BR230), brushed steel (1080-BR201), brushed steel blue (1080-BR217), and brushed gold (1080-BR241).
Doug Blackwell, market development manager with 3M Graphics Market Center said, "We're really pleased to offer a truly unique look for our Scotchprint® film series 1080 with these new finishes. We've created these brushed metal, textured looks in response to our customers' requests, and we're excited about the initial positive response."
The Scotchprint® Wrap Film Series 1080 are long-term, removable cast films. They are designed for solid color vehicle detailing, decoration, and full wraps without the need for graphic protection. Their pressure-activated adhesive allows them to slide and be repositioned until firm pressure is applied. The non-visible air release channels assure fast, easy, and virtually bubble-free installations, the same great features found in 3M's Controltac™ Graphic Films with Comply™ v3 Adhesive.
For more details on this product family, please visit www.3Mgraphics.com/1080.