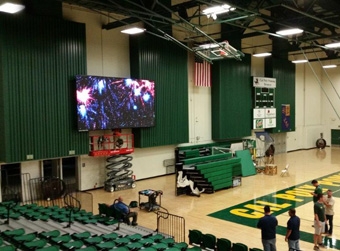 California State Polytechnic University, Pomona has selected Daktronics (NASDAQ-DAKT) of Brookings, South Dakota, to design, manufacture, and install an LED video display. The display was installed late this summer at Kellogg Arena.
"The addition of the new video board in Kellogg Arena will greatly enhance the student-athlete and fan experience," Director of Athletics Brian Swanson said. "The Daktronics board is another step in our continual progression to ensure Cal Poly Pomona is utilizing today's cutting-edge technology to move our programs forward.
"We are very appreciative of the support from our donors and corporate partners who share in our vision."
The new display will feature a 10 millimeter line spacing and measure approximately 9.5 feet high-by-16.5 feet wide.
The display is capable of variable content zoning, a feature that allows it to show a single large image or divide the display area into zones that can be filled with any combination of live video, instant replays, graphics and animations, up-to-the-minute statistics, scoring information, and sponsor highlights. Excellent picture quality and wide angle visibility will enhance the basketball game day experience by ensuring the display looks great from every seat in the house.
"We are very proud to partner with our friends at Cal Poly Pomona to bring another level of excitement to Kellogg Arena," said Eric Cain, Daktronics sales representative. "This video board is the first of its kind in the CCAA, and we are excited to see the impact it has on everyone attending an event."