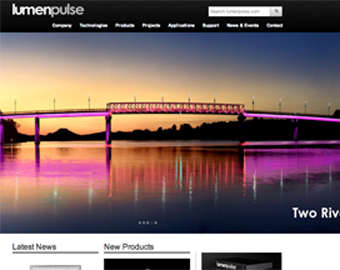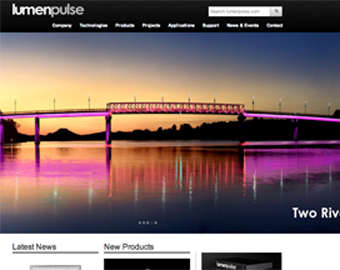 Lumenpulse Inc., has launched its new Web site—www.lumenpulse.com. On top of showcasing some truly stunning photography, its navigation features were enhanced to make it easier for lighting specifiers to find Lumenpulse LED products quickly. A convenient selection tool was also added to let users save content to a customized page for future reference or for sharing.
"Lumenpulse is recognized for its design-centric approach to lighting," said Jesse Lilley, Vice President of Marketing at Lumenpulse. "We wanted the Web site to reflect that, both in terms of aesthetic and usability."
The Web site is currently in English and in French and will soon be available in Spanish, German, and Italian. This makes Lumenpulse's President and CEO François-Xavier Souvay especially proud. "An international company is one that's multilingual," he said. "By eliminating as many language barriers as we can, more people can participate in the conversation."
The conversation on the new site revolves around Lumenpulse's notable projects, like the LED fixtures used to illuminate BC Place Stadium in Vancouver, the Åre Ski Resort in Sweden, and Montreal's Contemporary Art Museum. Other features include a searchable product catalog, downloadable PDF catalogs, comprehensive support pages, and a boosted contact page that allows users to locate the nearest Lumenpulse representative.
"Our objective was simple," said Lilley. "We want users to find every Lumenpulse resource in one place."
Founded in 2006, Lumenpulse develops and manufactures high performance, sustainable architectural LED-based fixtures and solutions for commercial, institutional, and urban environments.