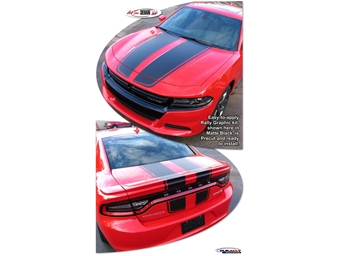 Make your '15-Current Dodge Charger "aggressive-looking" with this awesome Rally Stripe Graphics kit from Auto Trim DESIGN®. This graphic kit is pre-cut and ready to install in a wide variety of colors. No trimming is required (except for Charger models with Sunroof option)!
This stripe package is not just a box of straight strips. The graphic kit consists of tapered, pre-fitted, and contoured pieces as shown in the illustration—straight stripes will not work on this vehicle. Thus, due to the fact that this kit is created specifically for the '15-Current Dodge Charger, it will not fit any other vehicle.
Stripes require 5-inch (12.70cm) center spacing at time of installation as per the company's detailed Parts List.
Graphic package includes general online application and care instructions.