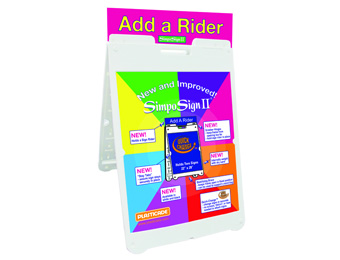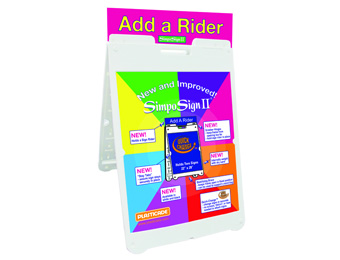 The Simpo Sign II® from Plasticade® has been redesigned with all of the company's most popular design features.
It holds two signs—22-by-28 inches—and has Plasticade's patented Quick-Change™ feature. The new grabber hinge holds a sign rider and keeps the sign frame from opening too far. It also has "Stay Tabs" to secure the sign in place.
The Simpo Sign II can now be internally ballasted with dry sand and is available in both white and black.
The Quick-Change feature allows you to change signs in seconds. Sign blanks easily slide in and out and stay securely in place. No tape, Velcro®, or screws are needed, eliminating fastener damage to signs.
Signs made of Coroplast™ or other material 3/16" or less can be used.
For additional information, call 800/772-0355, email [email protected], or visit www.plasticade.com.