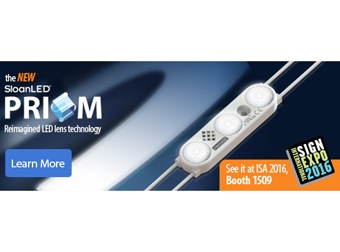 SloanLED, leaders in LED technology, have announced the launch of SloanLED Prism at ISA International Sign Expo 2016. SloanLED Prism is re-imagined LED lens technology and the brightest lighting option in its class at 186 lumens per foot. The impressive lumen output and versatility of SloanLED Prism allows for installation into a wider range of sign depths, using fewer modules.
SloanLED Prism will be on display at SloanLED booth #1509 at Sign Expo 2016, April 21-23 at the Orange County Convention Center in Orlando, Florida.
"SloanLED Prism is a truly unique lens product offering for the sign industry, specifically channel letter applications. Our team of engineers and namely, in-house optical physicist, have taken micro prism technology and applied it to LED modules in a completely new way," said Ervin Cash, President & CEO of SloanLED. "We look forward to introducing this breakthrough in LED lighting to the sign industry at ISA Sign Expo. No feature of this product has been overlooked."
SloanLED Prism is a unique arrangement of micro prisms designed explicitly for channel letter modules producing brilliant, uniform light at the sign face. It's another SloanLED lighting breakthrough: the science of optical physics combined with decades of sign industry knowledge. SloanLED Prism 6500K is the first in a series of lensed LED modules launching this year with colors and additional temperatures available in the coming months.