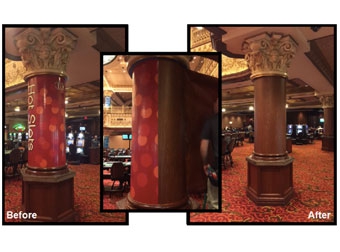 Introducing Belbien Architectural Finishes, innovative architectural finishes that can be installed on interior signage and substrates to simulate a wide variety of natural and synthetic finishes like wood, stone, metal, and leather. Belbien is a great way to update or refresh signage, interiors, and exteriors without any demolition or construction.
Belbien is lightweight and self-adhering making it significantly easier to install when compared to traditional laminates. It smoothly wraps around curves and corners allowing for easier, more time-efficient installations.
Belbien is a great alternative to laminates, fabricated metals, wood veneer, and other expensive finish options. Belbien is available in over 430 stylish patterns and is designed to look and feel like the real thing. Because Belbien can be applied to existing signage/surfaces, it significantly reduces the time and budget needed for signage/surface renewals.
In the picture is an example of how Belbien can be used—Belbien achieved the look and feel of real wood and was used to redo 70 columns in a casino.